Campaigns
Giving Tuesday 2022
As we approach 2030, we, as a global community, must get on track to meet our sustainable development goals for climate action, safe water, and sanitation worldwide.
THE TIME TO DONATE IS NOW.
Now more than ever, climate change is threatening access to safe water. There are currently 2 billion people including children that do not have proper access and this number will continue to grow if we do not act now.
Take part in this global movement of giving by donating to a foundation whose mission resonates with your values. We know you also envision a better world, where all have access to living conditions that allow for empowerment and development. Together, we can change many lives for the better.
Faire un don à la Fondation One Drop, c'est doubler votre impact puisque chaque don sera jumelé jusqu'à 10 000 $
THANK YOU TO OUR MATCHING DONOR!
The foundation of Clear Skies Investment Management, who shares our mission of contributing to the achievement of the UN's Sustainable Development Goals, will be doubling your donation!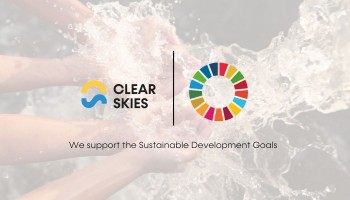 "We selected to participate in the global Giving Tuesday campaign this year and match all donation directed towards the One Drop Foundation's impactful programmes addressing SDG #6: ensuring safe drinking water and sanitation for all. As temperatures rise, droughts increase causing the depletion of surface water ecosystems, and ultimately the depletion of groundwater supplies leading to shortages in water needed for potable water. Supporting One Drop's efforts reinforces our vision for a more sustainable world."
Michel Brutti, CEO and Founder of Clear Skies Investment Management Inc.
This initiative will support the One Drop Foundation's mission to ensure sustainable access to clean water, sanitation, and hygiene for communities around the world through innovative partnerships, creativity, and the power of art.