Team
Meet the dedicated people behind One Drop
Alexandre Meunier
Chief Marketing and Events Officer
"There's nothing more exciting than a blue ocean"
Alexandre leads the charge when it comes to organizing major projects intended to raise funds for One Drop's international programs. In his role as Chief Marketing and Events Officer, he creates and executes innovative projects, combining elements that are often unprecedented in the philanthropy sector. With 16 years of experience under his belt, Alexandre is always striving to build on his latest project and find new, innovative ways to convey the One Drop message.
For Alexandre, there's nothing more exciting than a challenge! More than anything, loves the ambitious nature of the One Drop organization, as well as overcoming things that seem impossible. Together with his team, he is faced with big, bold ideas and tasked with bringing them to life — something he thrives on!
When he's not putting his skills to the test at work, Alexandre is challenging himself in the kitchen — trying his hand at complicated recipes is what really helps him unwind!
André Léger
Chief Financial Officer
In order for One Drop to get the most out of its financial resources to better serve the needs of communities around the world, André Léger is tasked with making sense of the dollars and let them talk.
With an MBA, years of experience and a knack for numbers in his arsenal, André brings to the team everything one needs from a financial wizard but with a humanitarian streak and an unrelenting sense of optimism to boost his colleagues. For him, the most rewarding part of his job is seeing how it all translates into creating a better world for everyone. André loves to support his colleagues and help those around him develop their skill sets.
Outside the office, when he's not thinking about One Drop's challenges, André is an avid cyclist and biker whose favorite pastime is exploring new opportunities to help others.
Anna Zisa
Project Officer, International Programs
"You don't have a snail problem; you have a duck deficiency!" — Bill Mollison
As One Drop's project officer, Anna's role involves increasing the quality and sustainability of our interventions through research and reporting. Her background in environment, development and ecological agriculture, as well as integrated water resources management, makes her expertise invaluable to the One Drop mission.
As a cross country skiing enthusiast, Anna's ability to traverse along difficult tracks matches her holistic thinking at work where she is tasked with tracking the progress of the One Drop projects. Navigating her way around problems, like she would on a pair of skis, her ability to adapt to upcoming obstacles is a skill that's constantly put to the test in her line of work.
Anna's background is diverse, with both French and Mexican roots, but now she calls Canada "home." Her exposure to different cultures brings with it worldly insights that allows her to better connect with the people she works with around the world. For her, the most rewarding part of it all is when insights from monitoring and evaluation of One Drop's projects are integrated into decisions for programming improvements.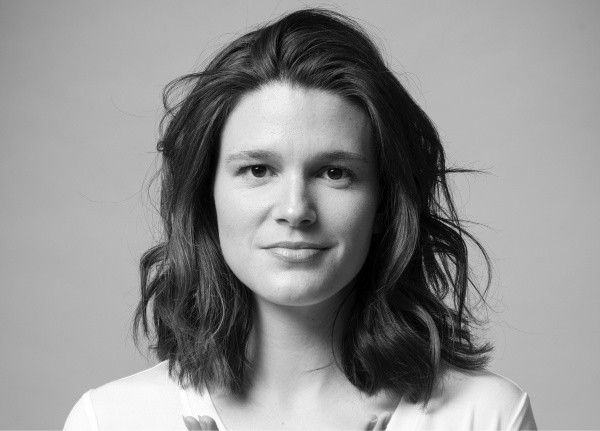 Ariane Ergas-Forget
Advisor, Marketing and Communications
Since graduating as a Bachelor in Communications and Master of Management, Ariane has brought over a decade's worth of expertise to her role as One Drop's marketing and communications advisor. Both inside and outside of the office, Ariane is an expert communicator — not only does she speak French and English fluently, but she knows the ropes in Spanish and Portuguese as well!
As someone who loves nothing more than to discover the unknown, Ariane's wanderlust has made her into an intrepid traveller, taking her to all corners of the globe. Her spare time is usually spent exploring new places, engaging with new people and cultures, and gathering new experiences around the world.
Very much a people person, Ariane's favourite thing about both travelling and her work life at One Drop is the great people with whom she gets to interact every day. For Ariane, there is nothing more fulfilling than being surrounded by a fantastic team! Both incredibly patient and a great listener, Ariane's interpersonal skills make her a natural fit to put One Drop's philosophy into practice.
Elena Santagata
General Counsel & Corporate Secretary
"Being able to apply my professional experience of 25 years to an organization that values creativity, innovation and entrepreneurship while improving the living conditions of some of the world's most vulnerable communities, is the best job satisfaction I could ask for."
In her role at One Drop, Elena draws upon her backgrounds in business and law. She balances, in regard to the organization's activities, legal and risk mitigation considerations on the one hand, and practical business and on-the-ground considerations, on the other. She also ensures that One Drop applies best practices of governance in its day-to-day activities. To say she's a woman who wears many hats and has a meticulous eye for detail is a total understatement.
Elena's real passion is for women and children's rights. She envisions a world in which safe water is provided to all, children are given adequate healthcare, woman have hope, and communities are given a future — no matter where they are in the universe. Working with One Drop allows her to strive towards this goal every day, making small changes that greatly impacts the lives of others.
To Elena, her greatest asset is her strength of body and mind. She's a woman who consistently lives up to her life motto: always do and give your best.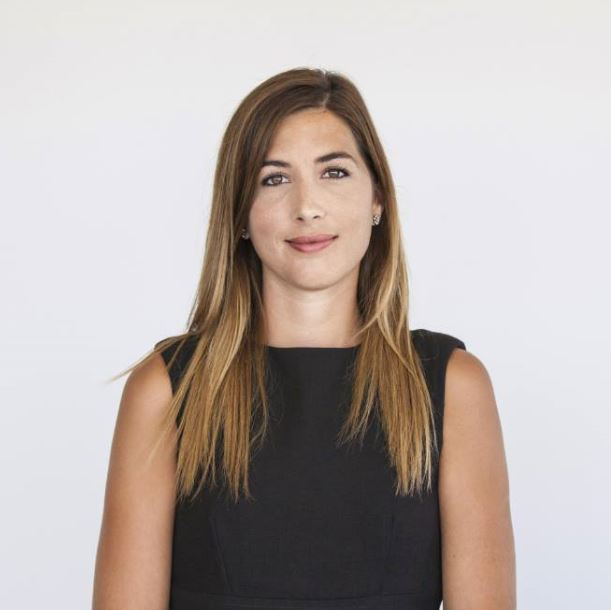 Émilie Lafond
Senior Advisor, Marketing and Communications
''Every moment is an organizing opportunity, every person a potential activist, every minute a chance to change the world.'' - Dolores Huerta
After many years living and working abroad, Québec City native Émilie Lafond, returned home to Canada and was excited to land a dream role at the international foundation, One Drop.
With a bachelor's degree in communications, a background in public relations and an artistic soul, Émilie was in the perfect position to shine at One Drop. Deeply proud to be part of the organization, Émilie works hard to help spread the charity's message and provide safe water to communities in need. Émilie believes deeply in the power of art, especially in its ability to connect with people on an emotional level and uses it to craft meaningful communications strategies that change millions of lives.
As a versatile member of the communications team, Émilie manages numerous projects including corporate communications, marketing campaigns, signature auctions and One night for One Drop, the organization's annual flagship event that features performances by Cirque de Soleil. Seeing her words inspire others to become more aware of the need for safe water motivates Émilie to keep bringing her best.
When not working, Émilie feeds her passion for creativity through painting, visiting museums and experiencing different cultures on her travels around the globe.
Ernenek Duran
Director, Latin America
"Life is like riding a bike; always forward and with balance"
Ernenek brings over 15 years of international experience to the table in his role as the Latin America Director for One Drop. As someone that loves nothing more than to travel and collect cultural experiences along the way, Ernenek has lived in Mexico, Honduras, France, the UK and now for almost 10 years in Canada. He has no shortage of worldly insight to bring into the One Drop office, that's for sure!
Ernenek describes his work at One Drop as 'stimulating and challenging,' while his greatest satisfaction coming from overcoming these challenges in order to positively impact the lives of so many who are in need. His empathy for others extends to the volunteer work that he carries out, including acting as a mentor for Big Brothers Big Sisters.
When he has some time to relax, Ernenek likes to unwind by practicing yoga! Describing his superpower as being able to 'see the world upside down,' we're not sure if this is in reference to his headstand or not…
Franck Bernascon
Director, Marketing, Communications and Events
"Let's put things into perspective!"
With 20 years of experience under his belt, Franck brings expert insight and awareness to his role at One Drop. He describes his work as 'creating new opportunities to help those helping us' and loves that he can make a positive difference through his job. Obtaining a Masters Degree in Law, Masters in Business, a DESS in Marketing Communication and speaking 3 languages, Franck's diverse education and training allows him to bring together knowledge from many fields in his role as Director, Marketing, Communications and Events.
Franck's favourite pastime is spending quality time with his children when he's fulfilling his most important role - as a father. His parental empathy and love of people comes to the forefront of his work at One Drop, where he is passionate about creating positive change for the lives of so many.
During his downtime, Franck can usually be found exploring new eateries or listening to his favourite music with the kids!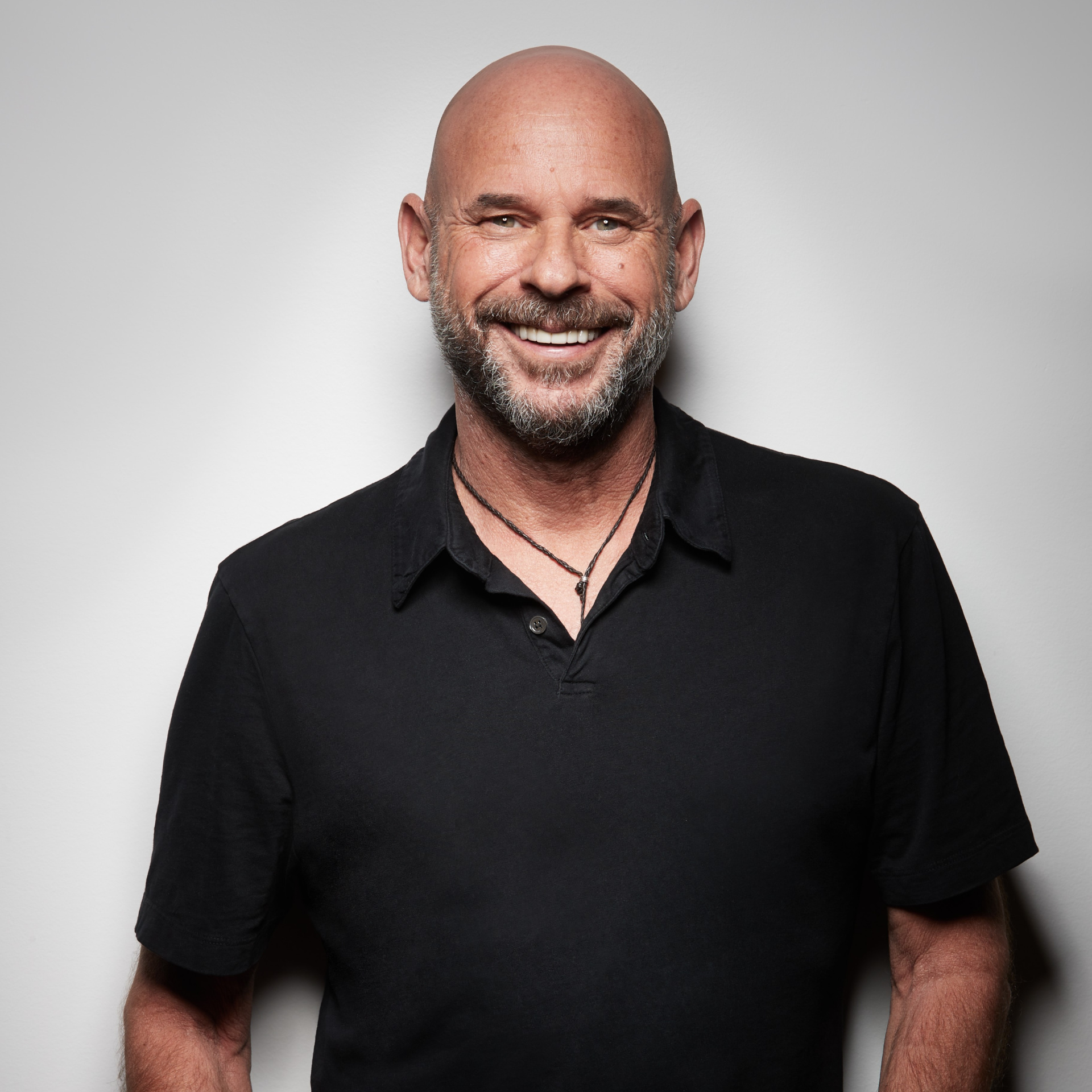 Guy Laliberté
Founder of One Drop, Cirque du Soleil, and Lune Rouge
Founder of One Drop, Cirque du Soleil, and Lune Rouge, Guy Laliberté was named one of the most influential people in the world by Time Magazine and was recognized as one of the most creative and innovative minds by Condé Nast. The strong vision of this unique entrepreneur and prominent philanthropist is what made Cirque du Soleil a respected brand worldwide. Perceiving water as one of the 21st century's greatest challenges, Guy founded the One Drop Foundation in 2007 with the vision of a better world, where all have access to living conditions that allow empowerment and development, today and forever. A true ambassador for local talent and creativity, he also continues to work with young creators and entrepreneurs by supporting several innovative initiatives.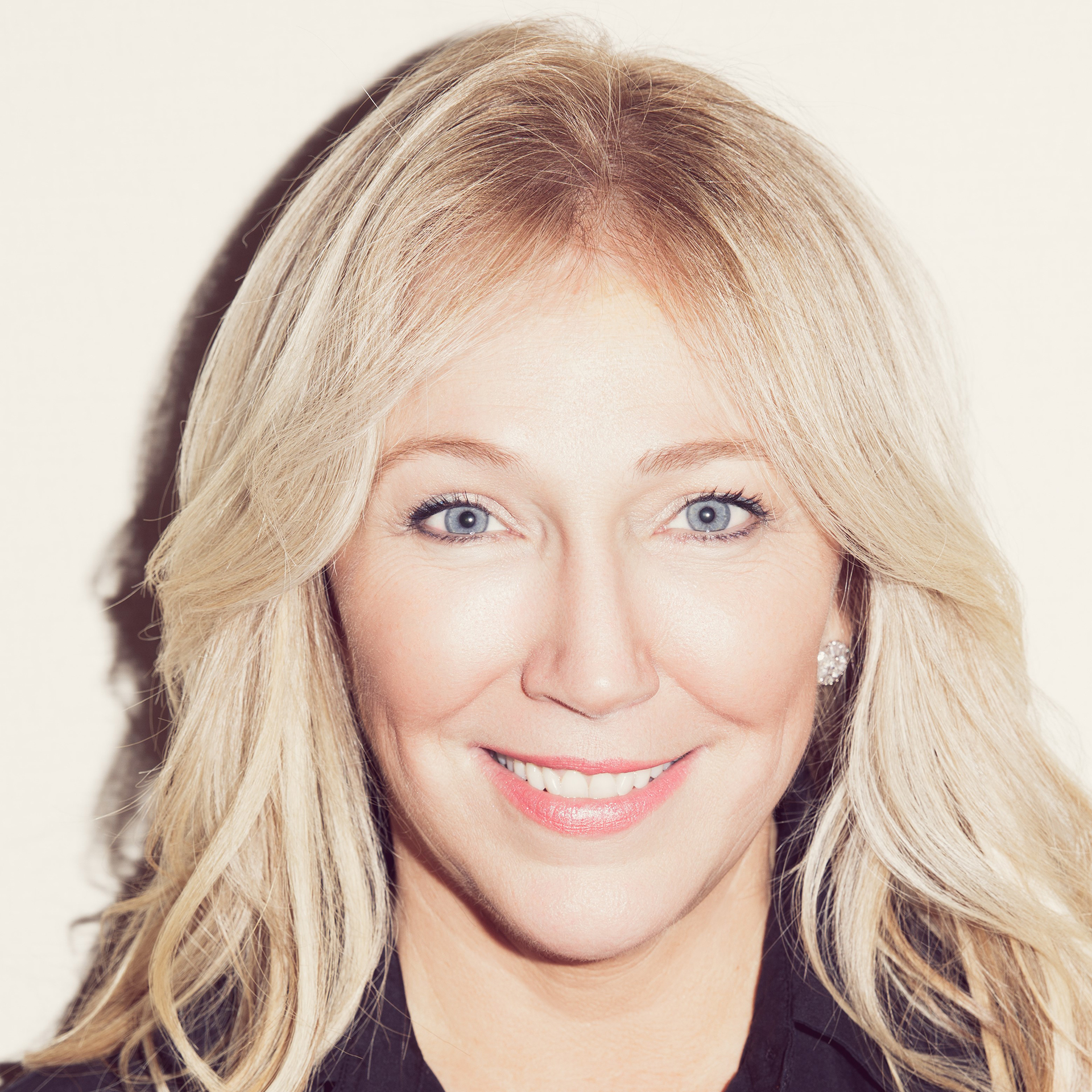 Heather Acheson
Global Ambassador
"Those who bring sunshine into the lives of others cannot help but bring it to themselves"
With a background on international events, working with Fortune 500 companies and organizing business forums, incentive trips and benefit galas for global charities, Heather brings to One Drop a vast knowledge to connect people beyond borders. She is the only Canadian to ever serve the 700-year-old dynasty of the Grimaldi family of Monaco, as Attachee to the Soverign Prince of Monaco. There she organized Palace events, Head of State visits and built international relationships that enrich her role as Global Ambassador to One Drop.
Aside from connecting people from all over the world to One Drop fundraisers, Heather is a 19th century script writer. Referred to as 'Ladypenman', Heather has scripted by hand historical entries inside ancient Royal history books. She is also writing her autobiography, which will undoubtedly be a page turner...
Humeyra Karsli
Director of Philanthropy
"One Drop provides me with the opportunity to work towards a global cause that is essential to human life— something that I feel to have a moral duty to act upon."
As One Drop's director of philanthropy, her mission is to foster lasting relationships between the organization's partners and donors as well as to design and implement an institution-wide stewardship system that actively promotes engagement with all donors. With over a decade of experience under her belt, as well as a personal journey that has taken her to Turkey, France and the United Kingdom before moving to Montreal in 2005, Humeyra's international perspective has helped One Drop solidify its position as a global champion for charitable causes and beyond.
While she's known for having her heart and mind in the right place at One Drop, it's her quick feet that get the most recognition outside of work. Nicknamed "firecracker" by friends and family, Humeyra has been known to follow her few passions as a flamenco dancer and a business facilitator for startups.
Isabelle Viens
Field Expert, Social Art for Behavior Change, Latin America (consultant)
"Taking the time to be with the people on the ground, that's the real life!"
Isabelle has carved out her place in the world of international cooperation over the past two decades, including 15 years of involvement with social art and popular education — the last three of which have been with One Drop. Her work has allowed her to call several Latin American countries "home," giving her ample opportunity to discover new cultures through the arts, collaborate with passionate people and to have generous, luminous and creative moments with the people with whom she crosses paths.
As someone with an appreciation for the Earth and all its riches, Isabelle's passion extends to the food it produces, as well as cooking (especially desserts!). To Isabelle, there's nothing more pleasing to the senses than the sights of colorful fruits and vegetables at a local market, the tastes of fresh produce, or the smells of a new harvest. To be able to share a magic moment of the concoction of a typical dish with a group of women from a community, to pick coffee according to the art of harvesting shared by a farmer, to learn to transform food with the ancestral method, is what she considers truly poetic.
When she's not concocting sweet treats, you can usually catch her either personal training or dancing up a storm teaching group rhythm dance classes alongside her partner. It's all in a day's work for someone who lives by the words "carpe diem"!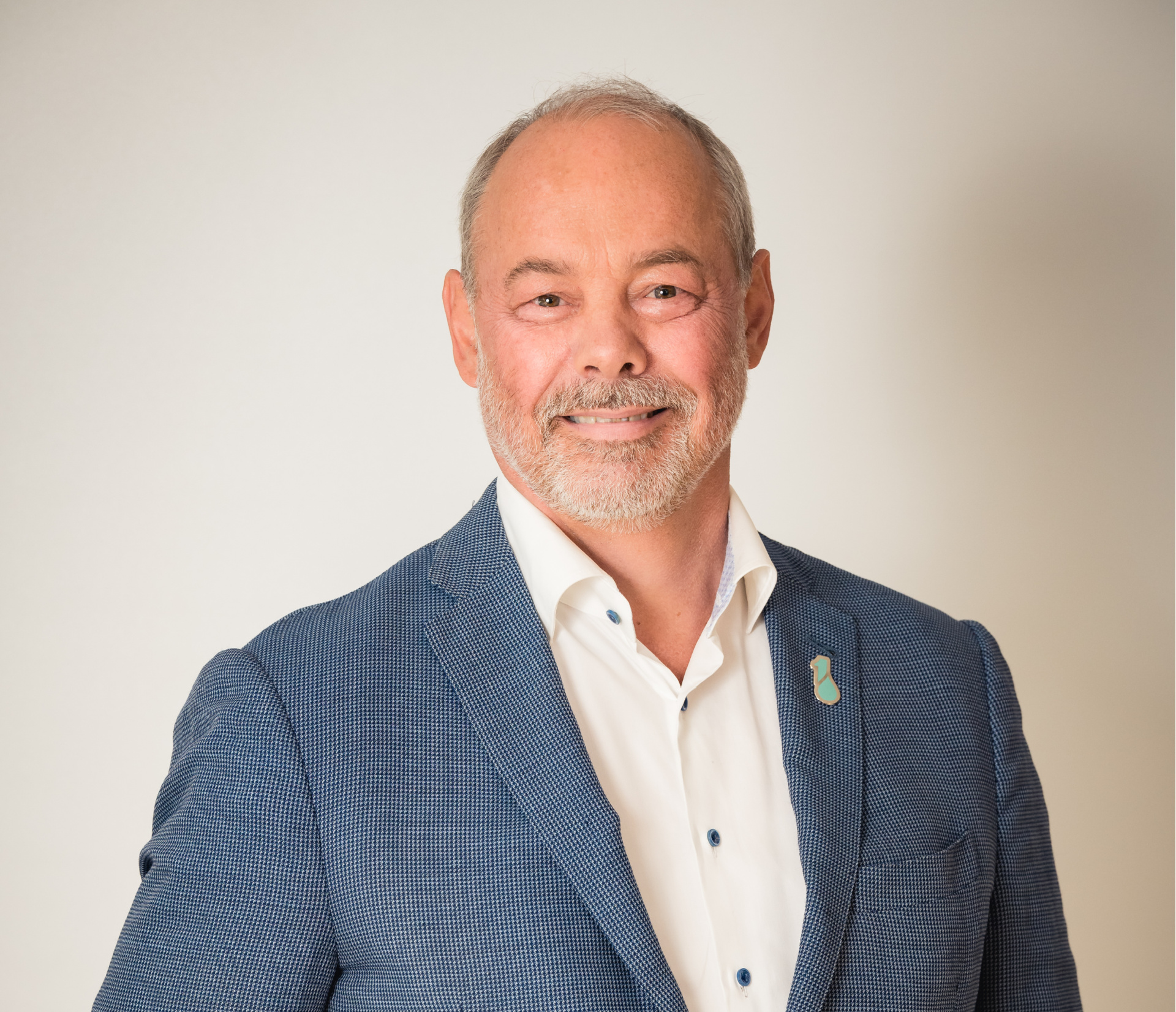 Jean-Louis Dufresne
Chief Executive Officer
"Together, let's continue turning water into action."
An experienced manager with a career that spans nearly four decades, Jean-Louis Dufresne spent almost 20 years at the prestigious communications and advertising agency BCP (Publicis Canada). He also held major positions within the Quebec government, and was awarded numerous strategic planning mandates for senior multisector leaders. He has the experience required to take organizations, partnerships, and projects to the next level.
With a keen focus on solutions and results, Jean-Louis is widely recognized for both his strategic and analytical skills and his ability to succeed at the seemingly impossible. His role as Vice-President, Senior Director of the BCP Reputation division provided him with a key leadership position where he built his standing as a renowned communications and reputation management strategist. The many positions he held alongside both business and Quebec government officials led him to serve and advise Premiers Robert Bourassa (1989–1994), Daniel Johnson (1994–1996), and Philippe Couillard (2013–2017).
Jean-Louis Dufresne holds university degrees in political science (international relations) and social anthropology, so he can attest to the added value of One Drop's Social Art for Behaviour Change approach. Over the course of his career, he has been involved with the boards of directors of numerous non-profit organizations. This diverse wealth of professional expertise gives him a rare perspective with respect to both the business world and international and philanthropic issues.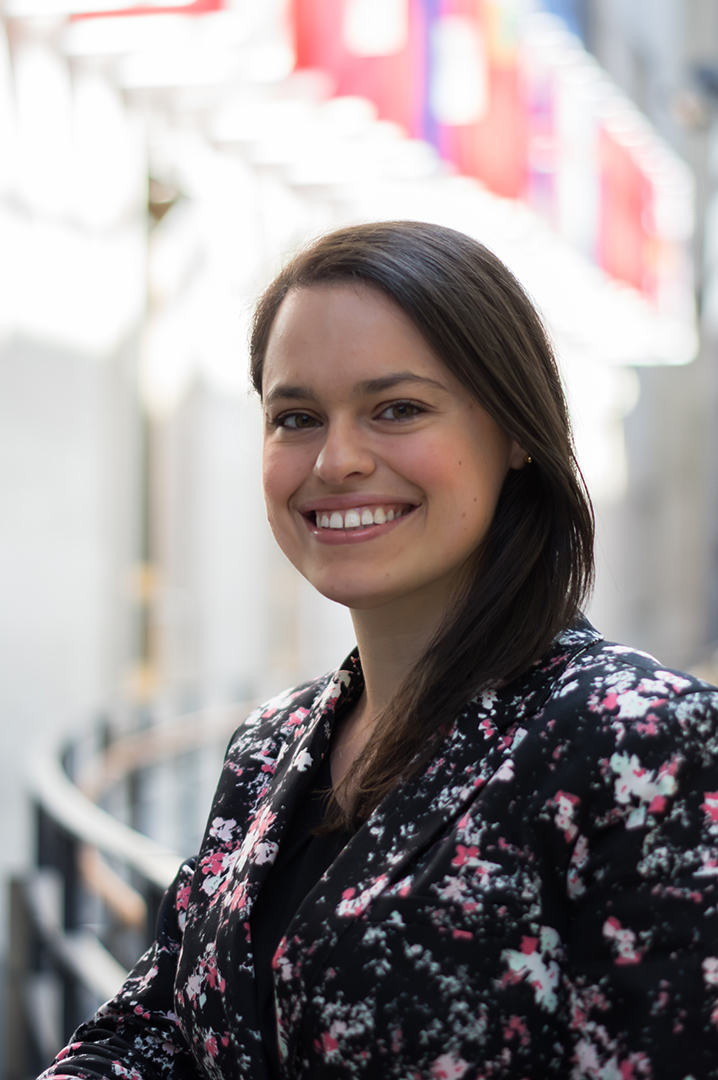 Jennifer Piccin
Project Manager, International Programs
A veteran presence around the One Drop office, Jennifer Piccin oversees a diversity of projects from our very first project up in Nunavik, an Inuit territory in Northern Quebec, to our latest project in Haiti. In other words, she's always ready to take on a new challenge!
Jennifer brings optimism, energy and candor to her role as project manager at One Drop. It's these qualities that have helped her efficiently and effectively support both our teams and partners in the field, as she works to improve the organization's tools, processes and policies.
Her true passion is being able to contribute to social change and address the issues of inequality worldwide. As she works towards these goals, she credits One Drop for providing her with an amazing space to learn from her colleagues and the communities in which she works.
When Jennifer isn't working on her beloved spreadsheets, she's staying active in any number of ways from rock climbing and snowboarding, to salsa dancing and cooking (…possibly with salsa…we could not confirm).
Kelly Quintero-Cristancho
Learning and Communications Officer, International Programs
Working with communities all over the world is my passion!
Kelly's professional journey started in Colombia, where she studied and worked in journalism, specializing in social communications. Her studies then took her to England and finally Montreal, where she completed a DESS in Environmental and Sustainable Development at the Université de Montréal.
Kelly has collaborated with a number of NGOs such as corporation Opción Colombia, which helps victims of political conflict and violence, and the Climate Reality Project Canada. Kelly also has experience in marketing and publishing.
As Learning and Communications Officer, Kelly is dedicated to capitalizing on the content generated by and for each project. Her work is always produced with the goal of positively influencing the overall effectiveness of the programs, and creating lasting change in the communities
Kelly is excited to be part of the One Drop team because of the opportunity to improve the lives of people across the world.
Lauren Alcorn
Director, International Programs
"The world needs dreamers and the world needs doers. But above all, the world needs dreamers who do." — Sarah Ban Breathnach
Lauren has been with the One Drop team for the last seven years as our Director of Programs. Although she's a Montrealer at heart, Lauren is a globetrotter who has also called Ghana, India and Denmark home at one point or another. With a background in international relations, as well as international development and history, her global experience, both professionally and personally, brings invaluable insights and expertise to One Drop, where Lauren is a "partnership builder, creative problem solver, team player and supporter."
Lauren has been passionate about human rights and the environment for as long as she can remember — it's no surprise, then, that she found her calling right here! With the greater global cause always at the forefront of her mind, Lauren is forward-thinking and proactive in her approach to life, both inside and outside off the office. Most importantly, it's something she tries to instill into her children.
And speaking of her kids, when she has time to relax, Lauren loves nothing more than to spend quality time with the little ones doing arts and crafts, or cooking up a storm in the kitchen!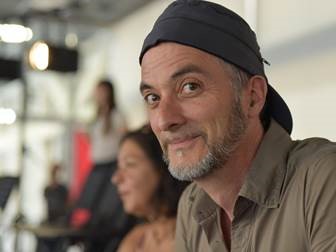 Luc Gaudet
Expert, Social Art for Behaviour Change
"Being a citizen is not simply about being part of a society. It's about transforming it."
For over 30 years, Luc Gaudet has been accompanying people on the journey to discover the transformative power of art.
As One Drop's resident social art specialist, Luc works directly with other organizations that are committed to supporting artists and citizens seeking to improve human behavior and bring sustainable development to businesses worldwide. Every day, he's driven by his passion for bringing autonomy, freedom and justice to humanity, as well as having opportunities to work with other people who dedicate their time and effort to the same cause.
While Luc is formally educated with a certificate in nonprofit management and studies in urban planning, much of his professional experience is self-taught. He learned the tricks of his trade by creating and interning directly with mentors of his choosing, including renowned Brazilian theatre director, dramatist and activist, Augusto Boal. Luc is also part of the Alan Thomas Fellowship, a leadership and volunteer initiative started by The Carold Institute.
When he's not out and about bringing beauty to the world, Luc enjoys spending his time in the garden or hiking with his dogs.
Marie-France Dos Santos
Advisor, Marketing and Communications
"We all are our own story"
Marie-France is a key actor of One Drop's marketing and comms team — she's completed a Bachelor and Postgraduate Degree in Communications, as well as a Post-Grad in Translation. She's proud of 10 years of being apart of uncountable creative projects. She describes her role as 'demonstrating with creative communications, words and content, the purpose of One Drop's programs initiatives.' Indeed, Marie is ultimately responsible for conveying the voice of One Drop — no biggie.
As an artistic person by nature, Marie-France's life satisfaction comes from involving her heart and soul into an entity that values creativity. Being a part of an organization that not only has a positive impact on some of the world's most vulnerable communities, but one that truly sees the good in embracing the arts and culture, is what inspires and motivates her daily goals.
Marie knows how to craft a good story when she's in the One Drop office leading projects further with rigor, strategy thinking and sensibility and getting involved in any kind of committee. And when she's not at the office, she's taking inspiration from others – here and there, traveling the world in seek of ideas or simply channeling her inner zen in Montreal, surrounded by inspiring people.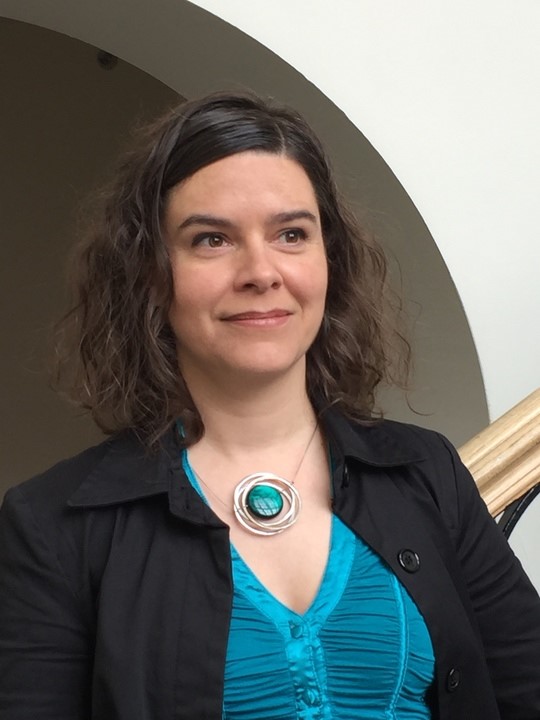 Pascale Gravel-Richard
Expert, Social Art for Behavioral Change
"Whatever the obstacle, let's find a way through it!"
Pascale's career, which spans more than 24 years, has taken her from Canada all the way to Chile, back towards Brazil, and a few other places in between! Her love of travelling is matched only by her passion for meeting new people and contributing to the collective human conscience through social arts and knowledge sharing.
As One Drop's resident expert on Social Art for Behavioral Change, Pascale puts her dedication for social change into action everyday through her work, which allows her to actively contribute towards the organization's global mission.
As someone who lives by the motto "all problems have their solutions", it's no surprise, then, that Pascale's favourite elements of her work at One Drop are navigating obstacles and finding progressive solutions with her teammates and collaborators. As part of her day-to-day responsibilities, Pascale ensures that the SABC approach is both coherent and innovative by using both knowledge gained on the ground and insights gleaned from past experiences.
In her spare time, Pascale loves nothing more than to unwind through writing, both in the forms of poetry and songs that she can play along to on her accordion.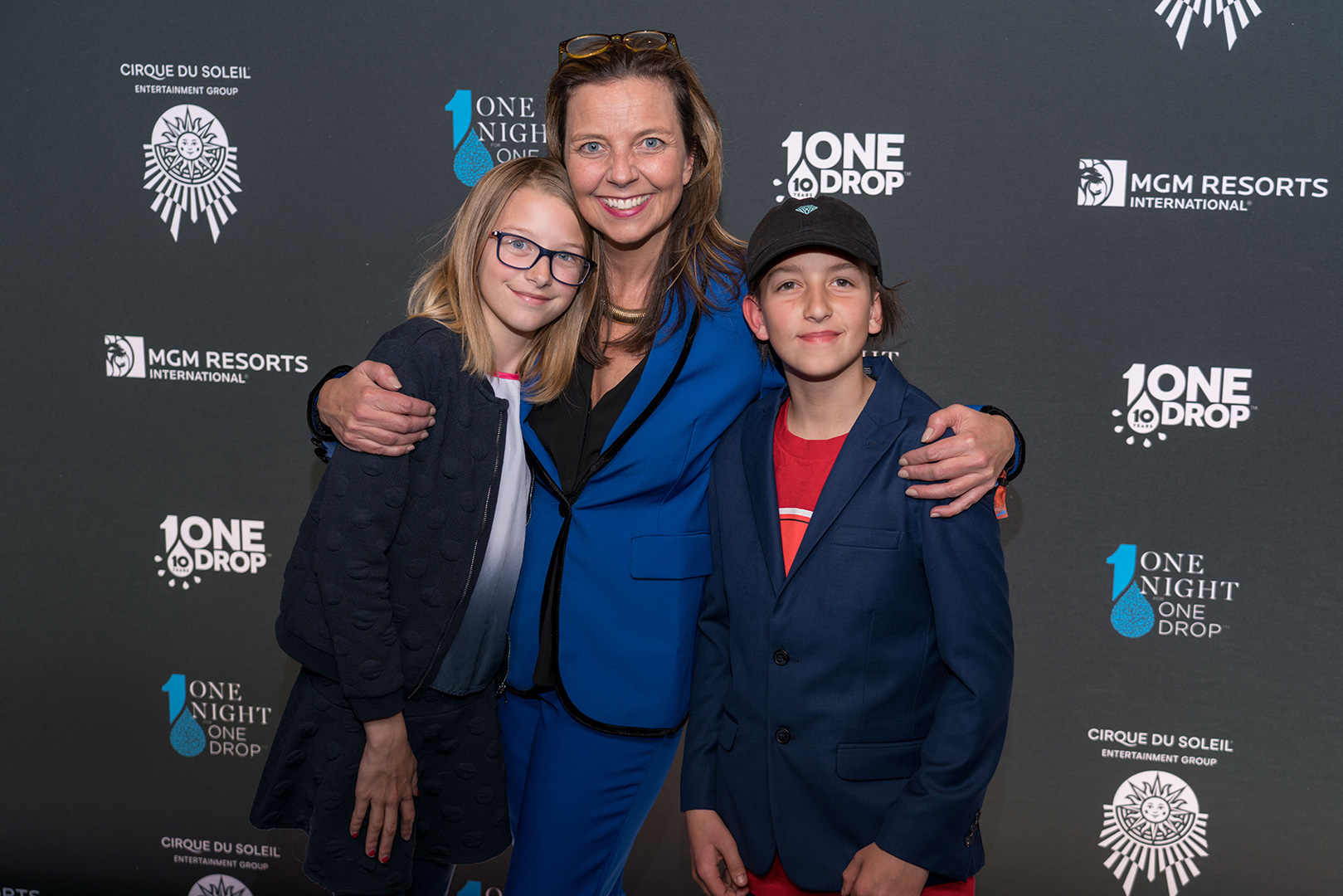 Pien Koopman
Communications Manager
"It's not how we make mistakes, but how we correct them that defines us."
In her role as communications manager, Pien Koopman is, ostensibly, the voice of One Drop. She has the last word on everything said publicly on behalf of the company, whether it's a press release or the messaging behind a larger initiative. Her intuition, outspokenness and skills as a communicator, collaborator and problem solver ensure One Drop's messaging is always clear and concise.
While her work is, in her words, "exhilarating, exciting and, at times, impossible when it comes to events", she feels that the organization's efforts in the developing world, ultimately, make what she does "important, necessary and meaningful."
Being an excellent communicator is something that's clearly very important to Pien, speaking four languages fluently: English, Dutch, French and German. Makes sense when you consider that Pien's life has taken her all throughout Europe — the Netherlands, the United Kingdom, Austria, Belgium, Germany and Switzerland — before landing in her current home in the United States.
Outside of work, Pien likes to relax by spending time with friends, reading or meditation (a hobby she recently took up). She's also in possession of all her swimming diplomas and, fun fact, is also trained in the fine art of silversmithing.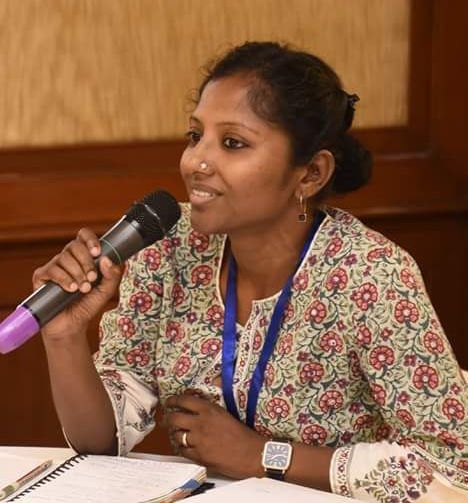 Priya John
India Country Manager (consultant)
Priya resides in Mumbai and is One Drop's India Country Manager. She holds a master's degree in Social Work, a master's degree in Gender and Development, and a diploma in International Humanitarian Law and Human Rights. With such an extensive educational background, her expertise is critical to the One Drop mission.
With a passion for feminist concerns in India, Priya continues to advocate for women's rights and health, and her work at One Drop allows her to positively impact the lives of others. As part of her day-to-day, she leads projects in India by collaborating with multiple stakeholders dedicated to ensuring the water and sanitation-related rights of vulnerable and marginalized communities. Travelling to different parts of the country and meeting people in their own context are a constant reminder for Priya of India's diversity!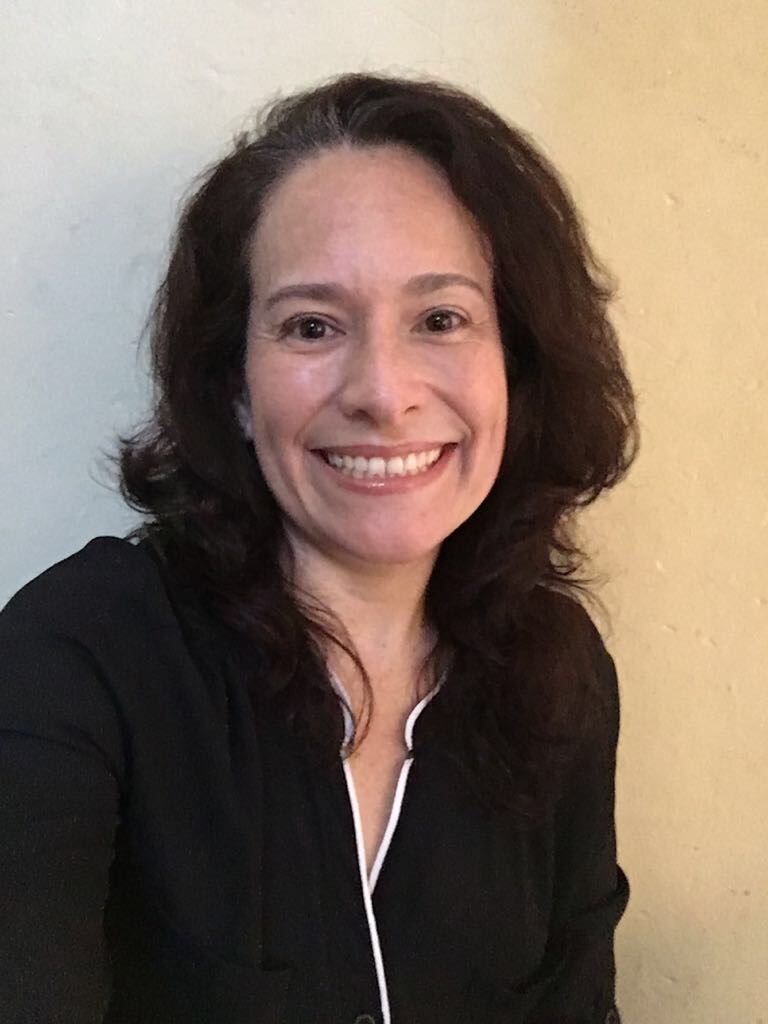 Raquel Porras
Field Project Manager, Guatemala and Nicaragua (consultant)
"Let's strive to learn and improve!"
Raquel's role as a civil engineer places her at the very forefront of the implementation element of One Drop's mission. She plays a key role in transforming ideas on paper into real life, and shaping physical realities that are affecting the lives of those most in need.
As someone who wants to continuously learn and develop her skill-set, Raquel's work at One Drop satisfies her intellectual curiosity and allows her to put what her expertise into action. It's a constant learning curve, but one that brings exciting obstacles to overcome and challenges to solve. It's all in a day's work for a civil engineer!
When she's not working on new development projects, Raquel idea of relaxation is taking a long walk and listening to her favourite music. She's a positive individual who lights up any room with her warm smile and positivity — something the One Drop office benefits from every day!
Sally Dewhurst
Ambassador of Fun
"Always look on the bright side of life!"
The role of One Drop's Ambassador of Fun couldn't be more suited to the energetic, full of life force that is Sally Dewhurst! As someone that practices what she preaches, Sally's inherently positive outlook and high spirits are tangible wherever she goes, inspiring the same in those around her. She's the one responsible for putting the 'fun' in fundraising!
As an ex Cirque du Soleil performer herself, Sally has over 20 years of experience, during which time she has done her fair share of globe trotting -- the US, UK, Japan and France are just some of the places she's taken her fun-loving attitude. What does she like most about her current role with One Drop? The creativity it brings, the inspiration it provides and of course, those that she gets to work with every day, contributing to the One Drop mission.
Outside of her work, Sally finds her fun in spending time with loved ones or staying active -- from skiing to biking to hot pilates, she's passionate about her health and keeping in good shape. Her greatest inspiration in life continues to be her father -- world renowned Cirque du Soleil performer and clown, Brian Dewhurst. Fun runs in the family!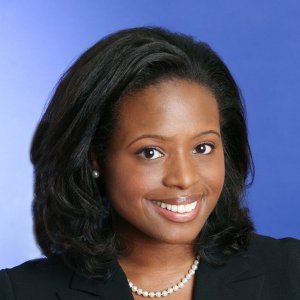 Sandra Hector
Director, Talent Management
"Shoot for the moon. Even if you miss, you'll land among the stars."
With over a decade of experience in human resources, Sandra Hector has developed a keen eye for expert talent management. Sandra's insatiable interest in psychology and human behaviour drives her passion for helping people reach their full potential, making her an indispensable asset in keeping One Drop's team at their best. She believes in putting the right conditions in place so that team members can thrive and are better equipped to advance the organization's mission.
Sandra reinforced her hands-on experience with a Bachelor of Commerce with a specialization in Human Resources Management from the renowned John Molson School of Business and joined One Drop in 2016. She also holds a Certified Human Resources Professional (CHRP) designation and a Diploma in Marketing. Sandra's vast volunteer work has seen her facilitate mentoring programs, career workshops, social reintegration programs, diversity round-tables and more.
When she's not busy finding the right talent to help One Drop reach communities in need, Sandra is an old-fashioned bookworm — she loves to read! Her appreciation for language and the way it can change a person's view of the world moves beyond literature. Sandra speaks three languages: French, English, and Creole.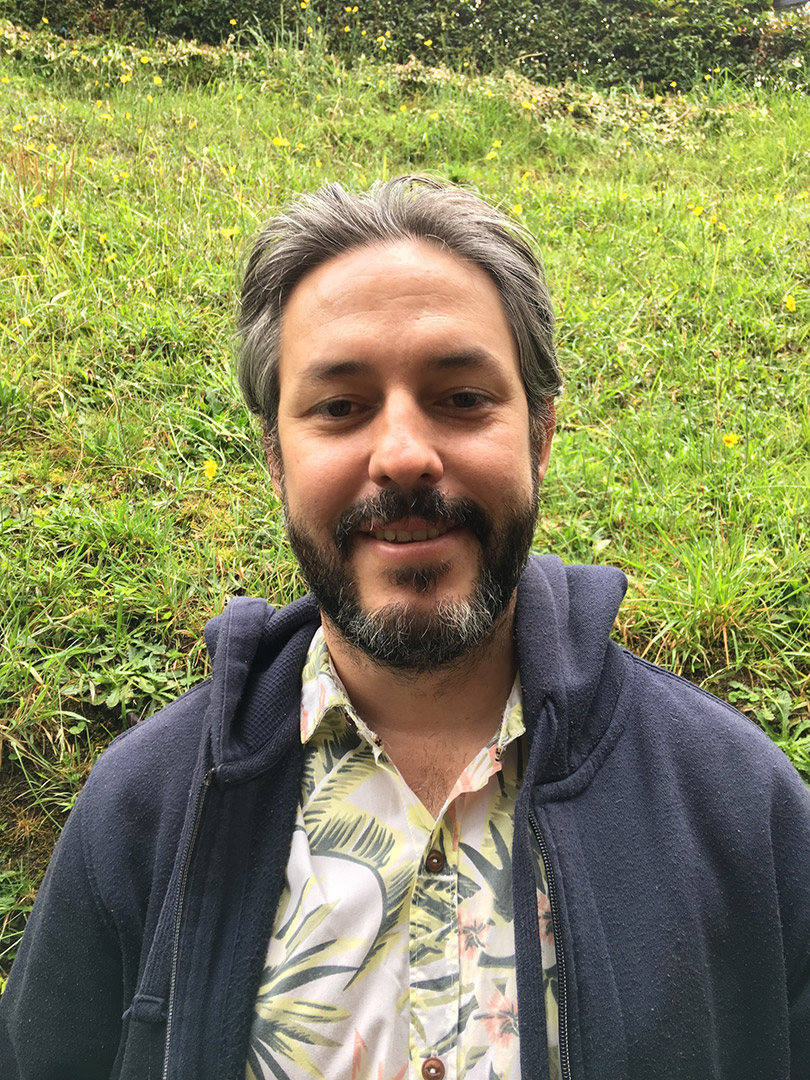 Santiago Vélez Velásquez
Field Project Manager, Colombia and Paraguay (consultant)
"I'm very fortunate to be able to impact others through One Drop's innovative projects."
Santiago originally hails from Columbia where he has over 15 years experience in his field of Engineering and Project Management. His background in Environmental Engineering in particular is invaluable to the One Drop mission where his expertise are helping to provide sustainable water solutions for those most in need around the globe.
For Santiago, One Drop is more than just a job. He has always held a strong passion for issues surrounding water management and treatment and finding lasting solutions to some of the most pressing problems that our global neighbors are facing. One Drop allows him to directly impact the lives of so many through innovative problem-solving and creative forward thinking. Santiago describes his superpower as 'finding solutions' — so we're in good hands.
As someone who has an innate empathy for others, Santiago's greatest pleasure comes in the form of his family. He loves nothing more than spending quality time with his nearest and dearest when he's not problem solving in the office!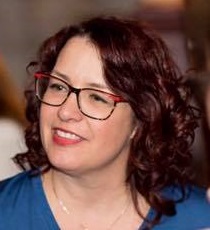 Sylvie Robidoux
Administrative Assistant, Marketing and Events
"Making a positive change in people's lives is what it's all about!"
Sylvie's experience, spanning more than 25 years in her domane makes her an invaluable member of the One Drop organization. As a true team player and someone who prides herself on her organizational skills, Sylvie is a vital component in the One Drop machine!
Passionate about showing kindness to those around her, and always striving to be a positive force in the lives of others, Sylvie puts her compassion into action everyday at One Drop. Sylvie's compassion also extends beyond the confines of the office — her resume is built upon a foundation of extensive volunteer experience.
As a breast cancer survivor, Sylvie implicates herself for the cause. She finds it extremely rewarding to give a helping hand to those women embarking on the same path she did in 2009.
Tania Vachon
Director, Social Art for Behavior Change
"You miss 100% of the shots you don't take!"
Bringing over 20 years of experience to the table, Tania has a wealth of knowledge to draw upon when it comes to her day-to-day life at One Drop. Her background in sociology has laid the foundation for a lifelong dedication to social innovation and change — for Tania, the most satisfying parts of her job are making social behavioral changes that positively impact people's lives. She takes inspiration from influential figures, such as Michelle Obama, and uses it to drive her own contributions to development work across the world.
As a keen team player, Tania's strengths lie in bringing people together to work towards a common goal. Whether breaking down barriers in the office or within the communities she's working, Tania's ability to connect people is put into action every day in her role as director of Social Art for Behaviour Change.
Tania also loves to keep busy when she's not at the office — her favorite pastimes include diving and running. Staying active outside of work means she's got bundles of energy to bring to every project she's involved in at One Drop!
Tanya Sarrazin
Operations Manager, Events and Marketing
"Let's make the impossible happen!"
Tanya is a seasoned traveller who loves nothing more than to immerse herself in diverse cultures and ways of life. She has spent much of her life moving between different countries and continents: Spain, Brazil and Asia, just to name a few! Her worldly background has instilled a desire to continue learning about different communities, which comes directly into play working towards a global cause with the One Drop mission.
Known for her skills on the handball court, Tanya is no stranger to teamwork with peers and colleagues alike. In work as in sport, her favourite aspect of her role at One Drop is overcoming challenges and collaborating with her co-workers. Recently, she turned her sporting focus to crossfit, helping her pushing her limits and become an even more driven individual with resilience of steel!
A Bachelor in both Fine Arts and Communications, Tanya is continuing to build upon her educational accolades as she is currently working towards gaining her Master's in Strategic Management. She's got a brilliant mind and is endlessly ambitious!
Tara Maritzer
Philanthropy Development Coordinator
"Failure is the best teacher of all. If you never fail, you will never truly know how sweet success can be."
Tara is a conscientious individual who works passionately as a member of the One Drop team to keep One Drop's philanthropic relationships thriving.
After completing an Associate's Degree focused in Commerce from Vanier College, Tara used her sales management and administrative skills to benefit charitable organizations, ending up at One Drop. As the Philanthropy Development Coordinator, her determination and passion for helping others are a tremendous asset in building meaningful relationships with One Drop's donors and partners.
A true believer in the mission and values of One Drop, Tara is perfectly suited to the task of researching potential partners and contributing to donor loyalty initiatives, as well as maintaining internal relationships between services within One Drop. Her motivation to be kind above all else and desire to contribute to a global cause make her a valuable member of our team.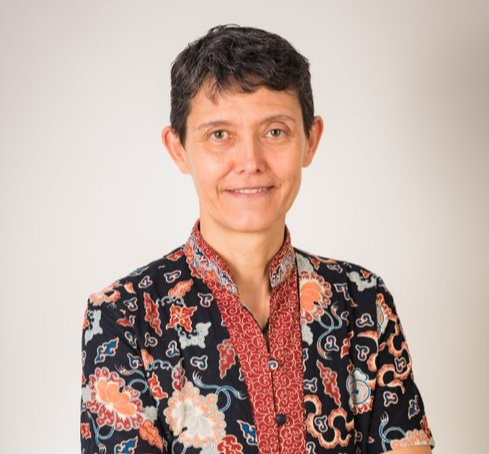 Véronique Doyon
Chief Program Officer
"Always think outside the box!"
Véronique Doyon is willing to go the distance to get things done.
On the one hand, we could talk at length about how, as a triathlon enthusiast, she's already completed an impressive 10 half-Ironman competitions in her life (that's 113 km each time, for those keeping score at home). But her drive isn't just limited to her athletic pursuits.
For more than 30 years, boasting experience across design, implementation and project management, Veronique has raced around the world completing tasks and accumulating expertise. This has given her the proper tools to coach the One Drop team as it executes projects in the field. Her pragmatic, innovative approach to work allows her and her colleagues to overcome constraints and ensure sustainable results to improve the livelihoods of the most vulnerable populations.
Between earning her master's degree as an agricultural economics engineer (specializing in tropical climates) and all that she's accomplished thus far, Veronique is an invaluable member of the One Drop team — and she's still got plenty of kilometres left in the tank.