Sectors of Action
Continuing Our Work Now, in the Future, and for the Future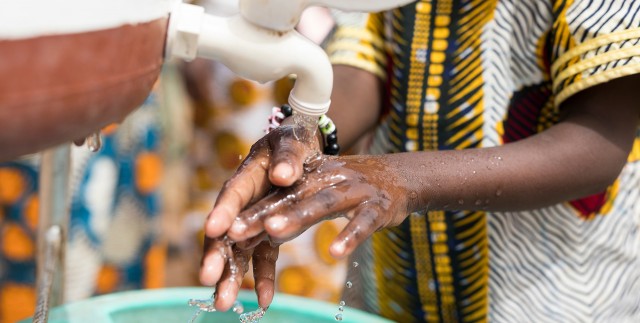 Ji Ni Beseya Project, in Mali. Credit: Guilhem Alandry - WaterAid
The art of changing behaviours in the era of COVID-19
By Tania Vachon, Director of Social Art for Behaviour Change, One Drop
Today is World Health Day, a day that resonates particularly strongly this year as the world unites in our fight against a pandemic. We take this opportunity to highlight the critical role played by frontline workers worldwide—from doctors, to nurses, midwives, administrators, cleaners, public health officials, and community members. Today, One Drop is more determined than ever to make a difference through water, sanitation, and hygiene initiatives. Our work continues now and will continue in the future.
In 2018, One Drop committed to the United Nations by joining other leading organizations to ensure safe and clean water, sanitation, and hygiene (WASH) in health care facilities. Since then, we have been restating the importance of a global push to adopt healthy WASH practices in health care facilities around the world, both to fight infectious diseases such as COVID-19 and to strive toward the United Nations' Sustainable Development Goals. Today, we will skip the striking statistics and open the curtains to show some of the work that continues in two of our current projects.
Currently, in Malawi
In the districts of Chitipa, Kasungu and Salima, in Malawi, One Drop is working towards reducing maternal and newborn death rates, in collaboration with our executing partner CowaterSogema and local health authorities. We work on increasing hygiene and sanitation behaviours, such as handwashing with soap at critical times, among doctors, nurses, and midwives. Similarly, we work on increasing handwashing with soap and latrine use among pregnant women and their guardians who come to stay at health care facilities before giving birth.
How do we address handwashing with workers in health care facilities? We use art to engage them and their emotions. We use participatory activities, games, and other artistic interventions, including community murals and "visual nudges" like painted footprints that strategically lead to a handwashing station in a maternity ward. A well-known musician in the country, Skeffa Chimoto, undertook co-creation workshops with health workers across the districts. The final product, an upbeat song, will be played over hospital intercom systems and on the radio and shared among health workers through WhatsApp and other digital means. "Wash your hands with soap. It protects your patients, and you too!"
To address handwashing with soap as well as latrine use, exclusive breast-feeding, and the administration of oral rehydration salts with pregnant mothers. We work in the same way: we use art to engage them and their emotions. We work with local artists to create Social Art for Behaviour ChangeTM activities—like clay modelling, participatory theatre, mural painting—which transform into sustained messaging that work for the long term.
Currently, in Mali
Our first health care facility pilot initiative in the District of Bla, in Mali resulted in a 20% increase in handwashing with soap among patients using the facility. With our executing partner WaterAid Mali and our social art partner, Centre Culturel Kôrè, we are working to replicate and improve on these results by doing more research and analysis into the beliefs, social norms, and attitudes that may impact whether or not, or when, people in health care facilities handwash with water and soap.
Through interviews with practitioners, administrators, and patients, we are designing a new initiative that aims at lowering structural, technological, and psychosocial barriers that keep people from washing their hands at critical times. We are also in the process of finding ways to adapt our data-collection methods to ensure they respect all COVID-19 personal distancing measures implemented in Mali. We continue this important work while adapting to new circumstances to keep everyone safe.
Now, more than ever, we must continue to work together.
While our commitment to WASH in health care facilities is stronger now than ever before, we need to remember that behaviours like handwashing with soap are often adopted in response to a crisis but then abandoned once the height of the crisis has passed, as was the case after past peaks in Cholera and Ebola outbreaks.
This is why all of One Drop's projects address handwashing with water and soap at key moments of the day and target youth, women, men, and health care practitioners with sustainability in mind. It's also why One Drop uses a systems-based approach and integrates art and emotions to the process. And it's why our work in health care facilities and within communities is so important now, and why it will continue to be after the COVID-19 crisis has passed.
At One Drop, we are continuing our work towards attaining the Sustainable Development Goals. By 2030, we want to live in a world where everyone has access to clean water and sanitation. In order to do so, we are adapting our practices to ensure we can protect vulnerable communities from the spread of COVID-19. Now, more than ever, we must continue to work together and help care for those most in need, in order to be able to care for us all. Our work continues, and it will continue. Now, in the future, and for the future.