Sectors of Action
Emerging Stronger: Collaborative Philanthropy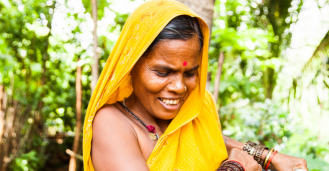 Update : November 2021
How we use our collective strengths matters. Let's all work collaboratively, for-profit and not-for-profit, public and private, large and small. Our resilience and solidarity as a global community have been tested during these trying months. There has never been a more important time to show that, united, we can achieve extraordinary things when the situation requires us to do so.
Since the World Health Organization declared the coronavirus a pandemic, the world has experienced a fair share of uncertainty. The COVID-19 pandemic has had a lasting impact on both the economy and the well-being of communities at the global, national, and local levels. These impacts have made us realize how all actors — individual, communities, businesses, and governments — are interdependent and interconnected.
As a global foundation working in the areas of sanitation, hygiene, and sustainable behaviour change in countries with fragile health systems, we have found ourselves witnessing and addressing the quickly evolving needs of our project partners as well as those of the millions of people we are helping in Africa, Latin America, the Caribbean, India, and Nunavik. The current situation confronts us all with immense challenges. Among other things, it is impacting and will further impact the philanthropic landscape. There is a tremendous increase in demand for social and health services, to name only two areas, but many non-profits are seeing their funding plummet as well. Many vital missions face disruptions at a time when communities need them the most. Philanthropic organizations around the world are undertaking massive efforts to align their resources with the pressing changing needs.
The One Drop Foundation's mission is as vital as ever but we cannot achieve it alone. We live in an ecosystem of interdependence. The health crisis has allowed us to see with more clarity how each of us is responsible for and impacted by those around us. While COVID-19 has created a unique and taxing context, the timeless, ever simple, but proven principle of collaboration is one that we have always embraced with our partners, along with the vision of a stronger and united future, together.
Collaboration is at the core of the One Drop Foundation's values. It is, therefore, embedded in our operational model and reflected in our daily work. Collaboration has tremendous potential for creating impact at scale, which is of critical importance when undertaking a mission such as ours. Collective collaboration with artists, behaviour change experts, communities, governments, and international non-profit organizations all at once creates an enabling environment for lasting change.
Aligned with the United Nations Sustainable Development Goals, One Drop's mission of ensuring sustainable access to safe water is a colossal challenge — and one of this size cannot be tackled alone without creative thinking. Year after year, we reinvent new ways of raising funds, using our expertise and assets to forge mutually beneficial partnerships and design novel fundraising initiatives, often involving sector leaders not traditionally associated with philanthropy. By working together with multiple partners, capitalizing on the strengths of each, we widen the scope of funding supporting our mission and greatly expand the amount raised, pushing our collective capacity to new heights.
Through collaboration, even the boldest ideas can be transformed into concrete actions. We accelerate synergies with partners, reaching spaces that otherwise would not be reached. We are empowered by one another. In order to understand how the situation has impacted our partners and donors, we have been responsive to their difficulties and concerns while focusing on our common goals to ensure health and safety for all. The key to preparing for the future is found in the same proactive mindset that has guided us to work together since the beginning of the crisis. We must act decisively despite uncertainty because our tomorrows depend on us now.
At One Drop, we remain fully committed to the communities we work with and to our partners worldwide. We aspire to connect with leaders from all walks of life, to think together, to explore new paths, to overcome challenges, and to ensure a healthier and more resilient future for all. A defining moment like this marks our collective memory and can set a ripple effect into motion. Where those ripples lead is entirely up to us.