Knowledge
The Basics of the One Drop Foundation's Social Art for Behaviour Change Approach With a New Online Course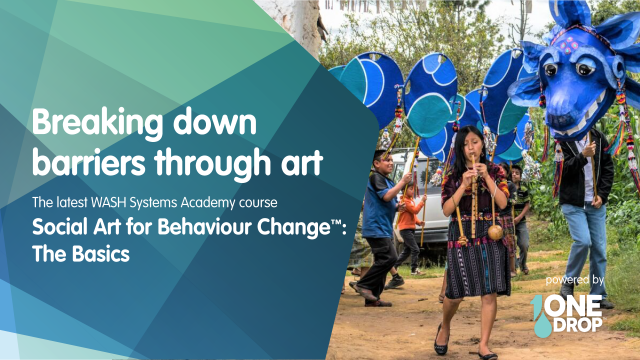 Get to Know the Basics of the One Drop Foundation's Social Art for Behaviour ChangeTM Approach With a New Online Course, and discover how art can change lives.
Why should you take this course?
Why do water, sanitation, and hygiene (WASH) systems fall into disrepair after a few years? How can it be possible to reduce the risk of this happening? Is access to water alone enough to bring about sustainable change? How do we ensure humans remain a priority in the change processes?
Social Art for Behaviour Change: The Basics aims to answer these questions and more, introducing you to the science of behaviour change in the context of sustainable WASH services. Readings, podcasts, videos, knowledge sharing, and fun quizzes will provide you with a better understanding of One Drop's A·B·C for Sustainability™ model and Social Art for Behaviour ChangeTM (SABC) approach.
This free twelve-hour course now available in English, French and Spanish, powered by the One Drop Foundation, is brought to you by the WASH Systems Academy and made possible thanks to an investment from the RBC Foundation, the Lazos de Agua Program, the Inter-American Development Bank and the Japan Special Fund Poverty Reduction Program.
At the end of your learning journey, you will understand:
the key challenges related to sustainable and universal WASH services
what a WASH system is and why systems strengthening is key for sustainable WASH services
what the A·B·C for Sustainability™ model is and how it is used in a WASH project
what behaviour change is and why it is the missing link for strong WASH systems
what influences behaviour
what the SABC approach is and how it can trigger behaviour change
how to design an SABC strategy within a WASH project
This course will also allow you to connect with a growing community of practice and obtain a certificate of completion.
Most importantly, this course will teach you how to connect emotions to new ideas and break down barriers and, ultimately, how art can change lives. Because art has the power to trigger emotions, action, and sustainable behaviour change.
New Online Course | The Basics of the One Drop Foundation's Social Art for Behaviour Change Approach With a New Online Course