Mexico
Supporting behaviour change and strengthening the WASH sector in the state of Guanajuato
Photo 1 of 5 - Hands with eyes and mouth sing this song to hum while we remove viruses from our skin by washing our hands with soap and water. (Spanish)
Photo 2 of 5 - Credit: Terry Hugues
Photo 3 of 5 - Credit: Terry Hugues
Photo 4 of 5 - Credit: Terry Hugues
Photo 5 of 5 - Credit: Terry Hugues
Photo 1 of 5 - Hands with eyes and mouth sing this song to hum while we remove viruses from our skin by washing our hands with soap and water. (Spanish)
Photo 2 of 5 - Credit: Terry Hugues
Photo 3 of 5 - Credit: Terry Hugues
Photo 4 of 5 - Credit: Terry Hugues
Photo 5 of 5 - Credit: Terry Hugues
Photo 1 of 5
Hands with eyes and mouth sing this song to hum while we remove viruses from our skin by washing our hands with soap and water. (Spanish)
Hands with eyes and mouth sing this song to hum while we remove viruses from our skin by washing our hands with soap and water. (Spanish)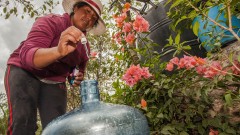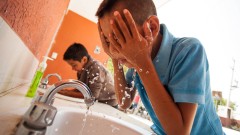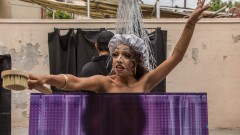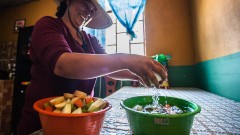 The Guanajuato project increases access to drinking water and improved sanitation in rural Guanajuato.
47,900
Targeted population
One Drop thanks its partners in the Lazos de Agua Program: the Inter-American Development Bank, The Coca-Cola Foundation, and Fundación FEMSA — as well as Living Water International, the project's executing partner, and the Comisión Estatal del Agua de Guanajuato (CEAG), the governmental executing partner for component A and Comisión Nacional del Agua (CONAGUA) — for making this life-changing project possible!
The Guanajuato project is part of the Lazos de Agua Program. It is implemented by Living Water International along with the CEAG — who manages component A of this project as part of the State of Guanajuato's multi-million-dollar rural water and sanitation program. It strengthens both the technical and the managerial capacities of committees and municipalities in the WASH area, fosters behaviour change, and improves community access to affordable, quality WASH products and services. The Guanajuato project is partnering with Habitat for Humanity in component C, while also partnering with artist groups Imaginartes, Tiliches del baúl, Cine Colectivo, and Machincuepa, to develop its Social Art for Behaviour Change (SABC) interventions.
Access
The aim is to increase access to water and sanitation services that are safely and sustainably managed. This is done by building or improving infrastructure — in this case, water supply systems in 65 rural communities, and sanitation infrastructures in 25 rural communities.
Behaviour change
This project fosters the following behaviours through SABC interventions: drinking water treatment and safe storage, handwashing with soap and water at key moments, and payment of the water and sanitation services tariffs.
Capital
This project supports the emergent supply-chain of WASH-related services and goods, by granting up to US$75,000 in WASH-related micro-loans to approximately 500 people, and providing micro-financing and small-business training.
Results
As of June 30, 2018, more than 13,000 people
have benefitted from improved water and/or sanitation services
and almost 15,000 people have participated in SABC interventions.
One Drop, the CEAG, and Living Water International
have signed an administrative cooperation and coordination agreement.
A communal drinking-water system, started in 2017, was completed.
The first stage of Sustainability activities
and the training of Change Leaders
have begun in La Escondida.