Nicaragua
Moving towards universal WASH access in the North Caribbean Coasts Autonomous Region (RACCN)
Photo 3 of 3 - Rufinia, en Nicaragua, accede a agua potable y adquiere nuevas habilidades (subtitles in Spanish)
Photo 3 of 3 - Rufinia, en Nicaragua, accede a agua potable y adquiere nuevas habilidades (subtitles in Spanish)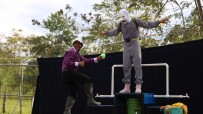 Rufinia, en Nicaragua, accede a agua potable y adquiere nuevas habilidades (subtitles in Spanish)
The Nicaragua Rural project helps improve living conditions for people living in 34 rural communities.
17,400
Targeted population
Waslala, Waspam and Puerto Cabezas RACCN
Nicaragua
One Drop thanks its partners in the Lazos de Agua Program: the Inter-American Development Bank, The Coca-Cola Foundation, and Fundación FEMSA — as well as WaterAid Nicaragua, Nicaragua Rural's executing partner, and WaterAid America — for making this life-changing project possible!
The Nicaragua Rural project is part of the Lazos de Agua Program. It is implemented by a variety of project partners: WaterAid America oversees WASH solutions and strengthens the local technical and managerial capabilities at community and institutional levels. Component A is a coordinated effort between the municipalities of Waslala, Waspam, and Puerto Cabezas, as well as the regional government of the RACCN. The SABC interventions in Component B are carried out by the artists groups Mujeres Creativas Lapta Yula, Traca Traca, El Bosque, Zankistas Fuego y Son, and Colectivo Arte Ceibo. And our project partners for Component C are PANA PANA, Cooperativa Caja Rural, and Mano a Mano.
Access
The aim is to increase access to water and sanitation services that are safely and sustainably managed. This is done by building or improving infrastructure — in this case: by building or improving drinking water supply systems at community, family, and individual levels; by improving WASH services in schools and health centres; and by building sanitation solutions.
Behaviour change
This project fosters the following behaviours through SABC interventions: drinking water treatment and safe storage, handwashing with soap and water at key moments, and payment of the water service tariff.
Capital
This project creates an enabling environment by developing WASH-specific financial products, by strengthening the WASH supply chain, by supporting market-based solutions including entrepreneurship training and micro-loan promotion campaigns.
Results
As of June 30, 2018, more than 2,800 people
have benefitted from improved water and/or sanitation services.
A communal drinking water system has been built.
for installing family sanitation systems
have been applied for and submitted.
The project's baseline has been formulated.