India
Project Rajasthan: Bringing sustainable, equitable WASH access to Sirohi, Pali and Udaipur
Photo 1 of 3 - SABC in Rajasthan, India. Note : this video was filmed before the COVID-19 pandemic
Photo 2 of 3 - Meeting at Kagdara
Photo 3 of 3 - Women playing Snakes & Ladder
Photo 1 of 3 - SABC in Rajasthan, India. Note : this video was filmed before the COVID-19 pandemic
Photo 2 of 3 - Meeting at Kagdara
Photo 3 of 3 - Women playing Snakes & Ladder
Photo 1 of 3
SABC in Rajasthan, India.
Note : this video was filmed before the COVID-19 pandemic
SABC in Rajasthan, India.
Note : this video was filmed before the COVID-19 pandemic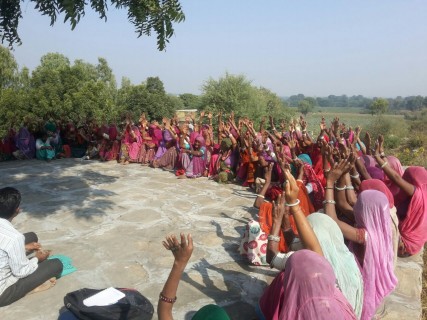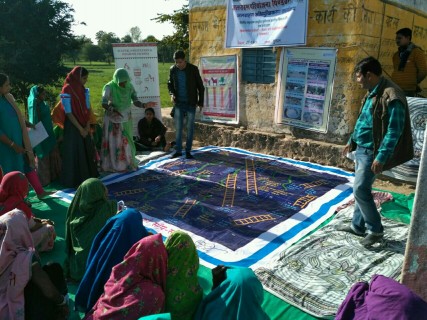 Women playing Snakes & Ladder
Project Rajasthan aims to improve the quality of life of vulnerable communities in 200 villages in Southern Rajasthan, through sustainable and equitable access to WASH initiatives led by community and institutional partners.
126,500*
Targeted population
Districts of Sirohi, Pali and Udaipur, Southern Rajasthan
India
One Drop thanks the project's funding partner, Tata Trusts, and its executing partner, the Centre for microFinance (CmF) — as well as the State Government of Rajasthan, Ministry of Jal Shakti, Public Health and Engineering Department, Department of Rural Development, Panchayati Raj and Jeevika— for making this life-changing project possible!
Project Rajasthan's approach integrates One Drop's A·B·C for Sustainability model, the Tata Trusts' Matrix approach, and CmF's expertise in delivering livelihood programs and access to microloans.
This project aims to transform the lives of the poorest and most marginalized people in Southern Rajasthan, by improving their access to WASH services, leveraging local government funding, and strengthen local authorities to deliver sustainable WASH systems. Project Rajasthan uses social art in innovative ways to raise awareness, mobilize communities, and change behaviours, to ensure the sustainability of WASH interventions. The project also focuses on shared learning and best practices.
*Number has been revised owing to changed sanitation status and other local regulations in project areas. **The decrease in total investment is due to fluctuations of exchange rates over the project term and revised local contributions.
Access
The aims are to improve access to safe water for 126,500 people.
Behaviour change
This project's social arts activities focus on raising awareness, changing behaviours around WASH-related issues, and generating a demand for sanitation services. The initiatives selected are rooted in and pay homage to Southern Rajasthan arts and culture, and have the potential to revive local folklore and practices, such as string puppetry.
Capital
The Tata Trusts and CmF deliver livelihood programs and microcredit programs that are linked to agriculture and that are spearheaded by women-led Self Help Groups (SHG). A market-based approach was developed for this project, capitalizing on CmF's and SHG's established network to generate supply and demand for hygiene and sanitation solutions. This project is also associated with the Swachh Bharat Mission (SBM) launched by the Indian government to accelerate efforts towards universal sanitation coverage.
HIGHLIGHTS
Formed 33 new Water User Groups,
completed 32 drinking water supply schemes
and constructed 20 groundwater recharge structures.
Set up 30 defluorination units and 10 reverse osmosis plants,
benefitting 1,090 households with safe drinking water.
were impacted by the Rajasthan project, in 2021.