Sectors of Action
One Drop at the Francophone Summit for Social and Behaviour Change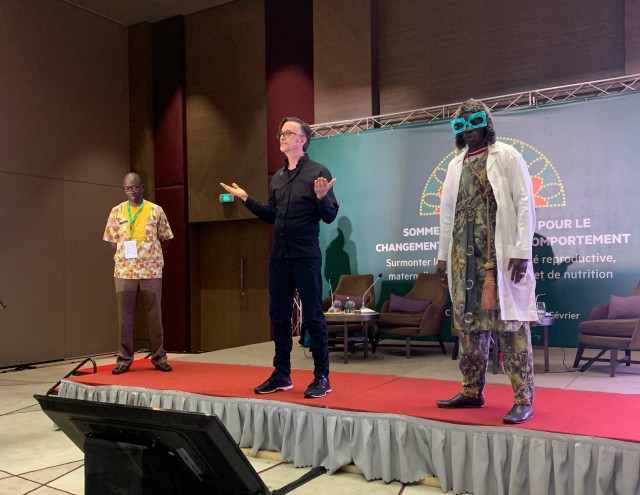 The Social Art for Behaviour ChangeTM (SABC) approach that One Drop and its partners use for the Ji Ni Beseya project in West Africa generated great interest at the francophone summit for social and behaviour change (Sommet francophone pour le Changement Social et le Comportement) held in Abidjan in February 2019. Luc Gaudet, One Drop's social art specialist, along with Aly Sow from WaterAid Mali, and Bourama Diarra, coordinator of the SABC component of the Centre Culturel Kôrè, participated in the summit with two presentations.
The first presentation, "Dokteur Kôrèduga to the rescue!" focussed on community involvement, engagement, dialogue, and resource mobilisation for the CSC. This session was an SABC experiment in and of itself, using the comic Kôrèduga character from Malian tradition to help communicate a dual message: first, to emphasise the huge potential that social art has when it comes to interventions that focus on improving reproductive, maternal, neonatal, and childhood health and nutrition. And second, to communicate the importance of integrating humour, emotion, and strong cultural elements into social interventions, as a means of triggering reflection and intention about changing behaviour when it comes to hygiene and health.
The second presentation, "The Art of Debating to Activate Handwashing with Soap at Critical Moments", used concrete examples and proven practices to show how mastering social art activities and debate techniques can allow the behaviour change process to be more efficient.
Breaking the ice through art and intergenerational dialogue
The CSC summit was also the scene of a contest to Design a Youth Campaign, for which Luc and Bourama were members of the jury. The proposed campaigns centred on maintaining dialogue and ensuring active youth participation with respect to decision-making around CSC initiatives in general, and sexual health and family planning initiatives in particular. Each campaign presented a strong artistic component and an unequivocal message about how popular education methods can mobilise youth and eliminate taboos—methods including theatre-debates, which combine experiential and discussion segments, and reality-TV-like media operations, which involve youth as well as actors from the cultural and artistic world who are respected and listened to.
See our SABC video below and learn more about the Ji Ni Beseya project.
Learn about the Mali project