News
Advancing Gender Equity Through Water, Art, and Emotion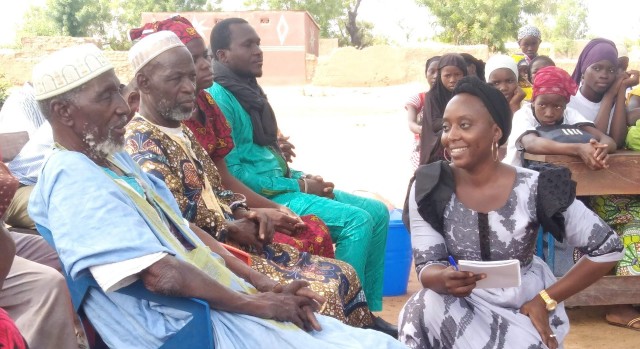 Making education more inclusive for girls in Mali
"There is no tool for development more effective than the empowerment of women."
— Kofi Annan, Former Secretary-General of the United Nations
The United Nations' Sustainable Development Goals (SDGs) are a global call to action to protect our planet and end the inequality plaguing millions of people—especially women and girls, who are often more affected than any other group due to existing social norms. Mali is no exception: only 73.8% of girls in the country are enrolled in primary basic education, compared to 85.8% of boys. When it comes to secondary education, enrolment plummets, with only 15% of Malian girls and 21% of Malian boys attending.1
Among the 17 SDGs established by the UN, SDG 6 seems to undergird the rest. It's clear that better access to water, sanitation, and hygiene (WASH) leads to improved climate resilience, gender equality, better education, and decreased inequalities, especially when it comes to indigenous groups. In Mali, the One Drop Foundation's mission—ensuring sustainable WASH access—is essential to empowering women and girls, as well as promoting gender equality.
Since 2020, the SCOFI Project has focused on boosting girls' enrolment and addressing systemic hurdles to the long-term management of sanitary facilities in schools. Alongside its partners, the One Drop Foundation continues to roll out its seminal Social Art for Behaviour ChangeTM (SABC) approach in schools across the Ségou Region, raising awareness around menstrual health and hygiene, challenging taboos, and tackling the behavioural determinants that beget harmful customs and norms. To learn more about these social art activities, we had the distinct pleasure of virtually connecting with Bintou Soumbounou, a counsellor at Centre Culturel Kôrè (CCK), which is One Drop's social art partner in the SCOFI Project.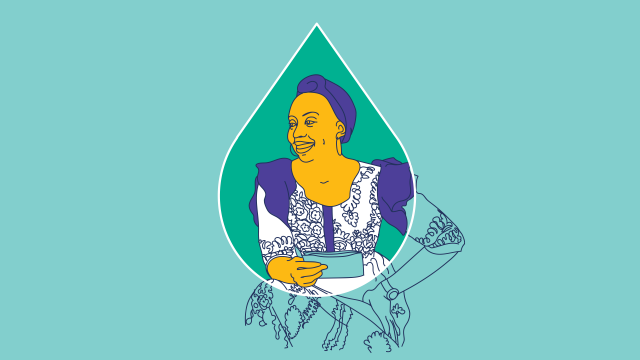 Originally from the Ségou Region of Mali herself, Soumbounou has always been passionate about Malian education, culture, and art. After earning a degree in domestic public law, she took on further education in a wide range of subject areas, including gender, reproductive health, cultural management, and youth work. Bintou wears several hats at CCK, notably as a counsellor and youth worker for the SCOFI Project, through which she harnesses the power of social art to raise awareness around gender-related issues among teens.
In Malian society, women are often marginalized for sociocultural and religious reasons. As Bintou Soumbounou explains, these are the reasons why women feel inferior and submissive. "I see my work as alleviating these feelings of inferiority to make [women and girls] more psychologically stable, which will translate into them feeling freer and more autonomous."
Bintou is well-known in the region's schools, where she hosts group discussions at "teen clubs". In these spaces, she talks about the gender-related barriers that were identified in the project's research phase, menstrual hygiene, and the concepts of gender and women's empowerment.
"There are social pressures here in Mali, the weight of tradition and gender variables... But as soon someone tries to explain that gender is a source of complementarity and mutual aid between men and women, something that helps build the community and the country we cohabitate in, they [people in the community] begin to understand." ―Bintou Soumbounou, counsellor at Centre Culturel Kôrè
Social art opens the door to conversations, emotions, and awakenings around deep-seated individual views. "…I see participants getting curious, attentive, and excited. They're awestruck by the social art approach, which they find to be quite innovative and directly connected to their stories." Art is also a tool that promotes development and autonomy in communities. Soumbounou adds that, little by little, young people are starting to take ownership of social art techniques and can facilitate conversations themselves. "With me here and the approach I use with them, I don't see these clubs going away. These groups won't fizzle out, these young people are going to take over without me even having to say so."
The time Bintou Soumbounou spends in schools allows her to meet other system actors, including parents, village chiefs, mayors, male and female educators, government workers from the Ministry of Education, and school directors. Once these actors get involved, they commit to making change and mobilize others to do the same.
All over the world, the One Drop Foundation recognizes the critical role upcoming generations have to play when it comes to social change. In Haiti as well, the foundation brings gender to the forefront for teen participants through Project PRISMA 2's SABC workshops. In these spaces, conversation is the basis of knowledge building around sexual health and more responsible sexual behaviour, as well as establishing equal relationships between genders and countering gender-based violence. As is the case with all One Drop collaborations—which all aim to create lasting change—social art activities are one part of a whole systems model the foundation calls A.B.C for SustainabilityTM.
It's time we all acknowledge art and behaviour change as critical components of sustainable water access projects, and access to water as essential to fostering education, gender equality, and ultimately to creating a better world. "We talk about art, and when you're talking about art, you're also talking about emotions. For me, social art is a powerful vector for change that speaks to communal creativity. Through engagement in participative projects that create social art tools—projects done alongside and for communities—the odds are in our favour," states Bintou.
1 UNICEF
is a great way to keep informed about our projects.