Sectors of Action
Clean Water and Sanitation: Facts and Solutions
Did you know that 2.2 billion people globally do not have access to safe water at home1? And a further 1.37 billion people globally lack handwashing facilities at home1?
Considering that one of the most effective ways to stop the spread of COVID-19 and other pathogens is proper hand hygiene, these numbers are alarming. This simple behaviour of handwashing not only protects us from contracting the disease, but it also stops transmission to other people.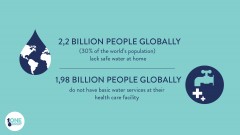 Clean water and sanitation deficiencies impact every aspect of life:
Access to clean water impacts health
Almost two billion people around the world rely on health care facilities that do not have basic water services. As we know, handwashing with soap has been proven to be one of the best preventative life-saving measures available but the reality is that globally, one out of six (16%) health care facilities has no functional hand hygiene facilities available at either points of care or toilets2!
In January 2020, World Health Organization (WHO) Director-General Tedros Adhanom Ghebreyesus cited the absence of water, toilets, soap, and waste management in health care facilities among the most urgent global challenges of this decade3. As we have seen in recent months, global health has a direct impact on economies and more importantly, the well-being of people. As we navigate this global health crisis, we need to protect populations all over the world and make sure that our collective recovery is synonymous with positive change.
And that is why One Drop fully supports the global Call to Action to prioritize WASH in all healthcare facilities. How? By investing in WASH infrastructure, and providing technical assistance in behaviour change approaches towards the adoption of key behaviours that protect both care providers and patients.
Access to clean water impacts education
Without safe water, kids miss a lot of school (584 million children lacked a basic drinking water service at their school4), fall behind and drop out. Access to basic water, sanitation, and hygiene (WASH) is widely acknowledged as an essential part of a healthy learning environment. For adolescent girls, schools offer a critical entry point for addressing menstrual hygiene management (MHM) barriers, especially if they are struggling to manage their menstruation with dignity and confidence in school settings that lack adequate MHM support, not to mention private, clean, and safe facilities.
Recognizing that menstruation can impact the educational experience and choices of girls, particularly in low-income countries, we are proud to have joined forces with Global Affairs Canada for the launch of the SCOFI (Scolarisation des filles, or Girls' Schooling) Project in Mali's Ségou region. 
Access to clean water impacts gender equity
206 million people—the majority of whom are women—fetch water for the family and walk about 30 minutes per trip2 to do so, resulting in less time to earn a salary.
One Drop's projects always include a capital component, which provides financial support and income-generating initiatives to create a powerful ripple effect that leads to sustainable development for communities.
Read about the story of Zourata, who became a leader in her cooperative in Burkina Faso.
Solutions for better water access and sanitation
At One Drop, we are always ready to go above and beyond to achieve true long-term sustainability. We believe in the combined power of providing access to safe water, sanitation, and hygiene (WASH) services, promoting healthy behaviours, and encouraging capital supporting income-generating activities and market-based solutions.
Access; Behaviour change; Capital. These make up our A•B•C for SustainabilityTM model. The combined power of these three components makes our projects sustainable by creating an enabling environment for positive change and helping communities reach their full potential.
To learn more about our approach, read our 2019 Impact Report.
To sum up, access to water, sanitation, and hygiene is vital, as handwashing with water and soap has proven to be a crucial element of accessing health, education, as well as gender equity, and is one of the most effective measures of COVID-19 prevention. 
To get the latest news on ONE DROP, subscribe to our newsletter.
1.World Health Organization (WHO) and UNICEF. Joint Monitoring Programme (JMP) 2017 - 2. WHO and UNICEF. JMP. WASH in health care facilities: Global Baseline Report 2019 - 3. WHO. Health challenges for the next decade. 2020. - 4. Progress on drinking water, sanitation and hygiene in schools: Special focus on COVID-19. New York: United Nations Children's Fund (UNICEF) and World Health Organization (WHO), 2020.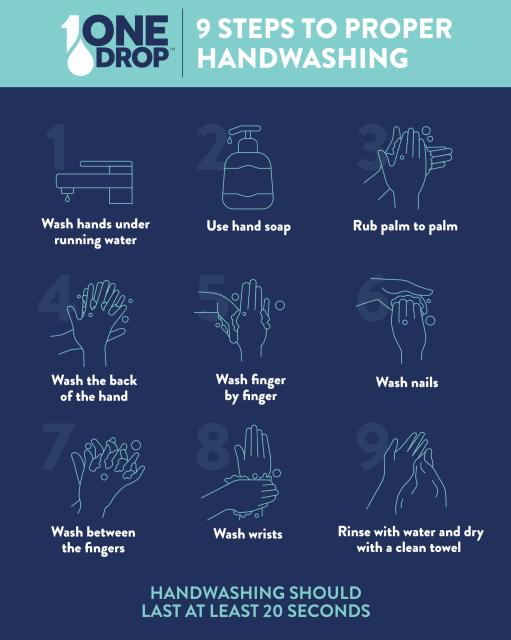 At One Drop, we believe that access to safe water is the most effective and powerful way to ensure sustainable community development worldwide.