Sectors of Action
Elevating Women's Voices in Times of Water Crisis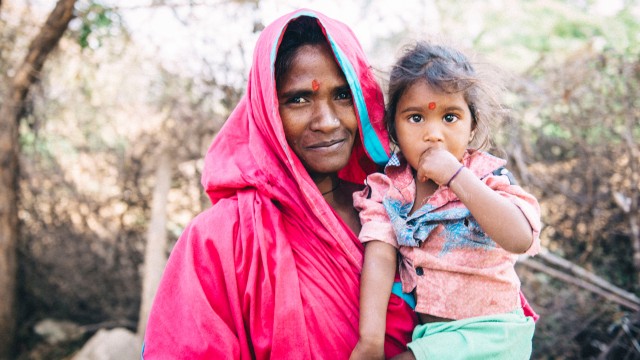 India is facing a major water access crisis. Across the country, communities are severely water-stressed, and droughts have become a regular phenomenon in many states. Annual per capita water availability is expected to reduce to 1,140 m3 by 2050, close to the official water scarcity threshold of 1,000 m3, while overall water demand is expected to exceed supply twofold by 2030.1 Climate change is further pushing the country's water resources, and its people, to the brink.
This impacts millions of people, with women and girls disproportionately affected due to existing social norms. As living conditions become increasingly harsh, women seek both immediate provisions and long-term sustainable solutions to address their basic needs.
The One Drop Foundation's A·B·C for SustainabilityTM model promotes and facilitates a holistic environment where three components (Access, Behaviour change, and Capital) work in synergy to reduce barriers and increase drivers to attain lasting change. With these systems in place, access to water, sanitation, and hygiene (WASH) can be bolstered through the adoption and practice of key behaviours such as handwashing with soap and using household latrines. Beyond behaviours, creating environments where people can act with agency is crucial for sustainable impact.
Since 2014, the One Drop Foundation's actions in India have been focused on activating people-centric processes and co-creating enabling environments to support sustainable behaviour change and resilient WASH systems. Social Art for Behaviour ChangeTM (SABC) activities have facilitated dialogue with communities and marginalized artists, as well as with government officials and policy makers, giving people a creative and interactive space to share their concerns related to access to basic services and practising healthy behaviours.
As we've seen in our workshops, social art can be used to identify drivers and barriers, and to specifically address social norms that are otherwise invisible. Recently, SABC workshops were held with community groups in Bihar and Rajasthan to understand how we can prevent vulnerable populations from being left behind. These sessions involved over 6 hours of discussions and activities, which were facilitated via social art partner Mr. Ramlal Bhat with the support of local teams and an SABC coordinator. After some icebreakers, participants discussed their water-related experiences and challenges, and the emotions these topics evoked.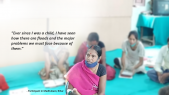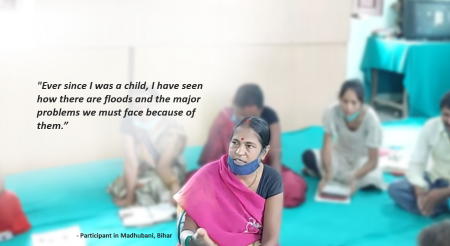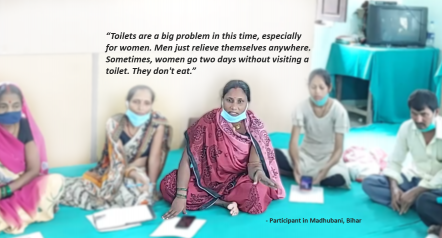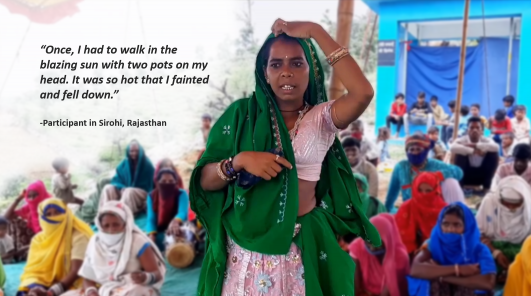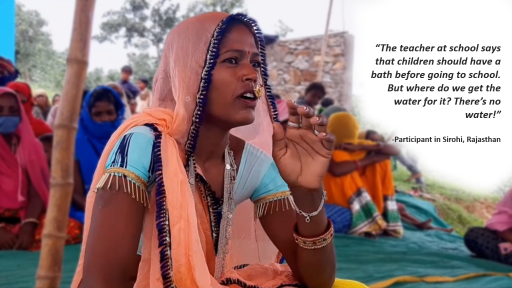 The premise behind social art is that participation and action are ensured through art and it involves communities in the creation of art that is in tune with local cultures and languages. The ideas that emerged from group discussions became the centre of the community's artistic creations, as participants illustrated these themes and experiences on long spreads of cloth. In other workshops, participants co-created art-based performances with regional folk singers, storytellers, painters, theatre artists, and musicians.
"I was happy to play the part of a well in the play. But I didn't like it when it went dry. Women especially have to face a lot of problems. Problems related to wells, handpumps, as well as people who have power. We're trying to learn a few things through the medium of theatre." - Participant in Gaya, Bihar
Participatory art-based resource mapping and emotional mapping through art and painting provided opportunities to all participants to express themselves, observe common trends, and form connections. These art-based activities create positive interactions that encourage community participants to reflect, act, and engage in debate.
As women and girls bear the brunt of climate issues, their voices must be at the centre of any debate. Artistic processes such as SABC enable the necessary reflection and dialogue, especially among community members belonging to different classes, castes, genders, and age groups. These processes also create space for them to address the social inequalities preventing them from practising healthy behaviours. However, adopting these behaviours is very difficult without proper access to resources. As this barrier cannot be overcome exclusively through social art, the SABC approach must be part of a systemic operation, one that does not burden individuals with the responsibility to change, but instead involves them in participatory processes that allow them to rethink and reshape the systems they are a part of.
1. Source: Government of India - NITI Aayog, 2019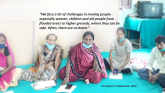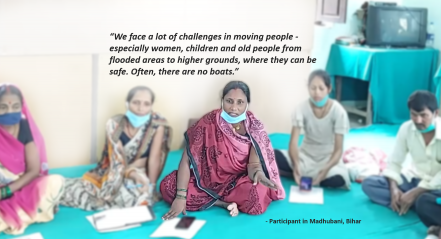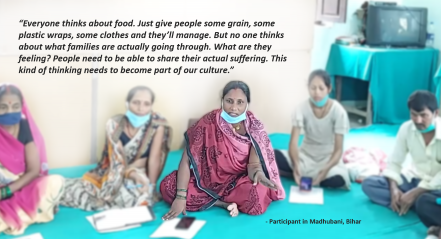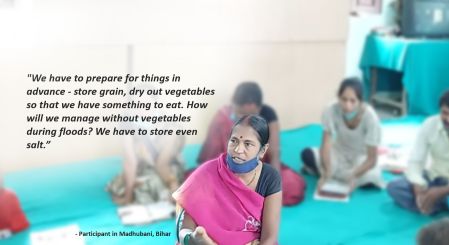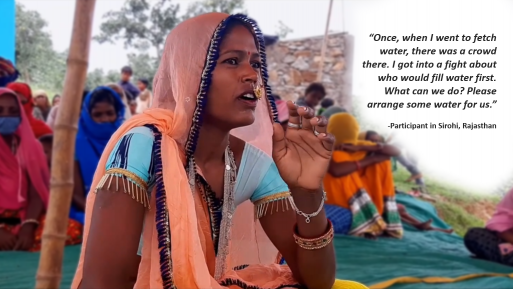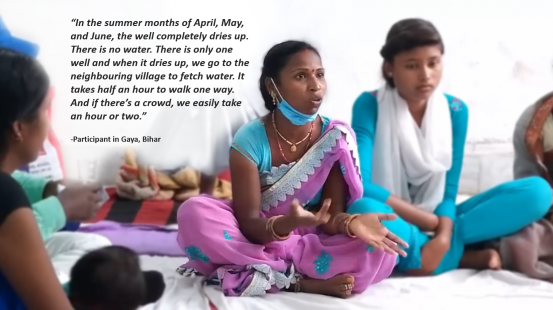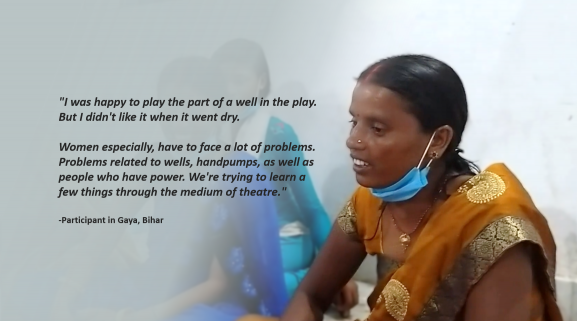 Let's keep changing their stories, together