News
One Drop Foundation at the UN 2023 Water Conference
From March 22nd to 24th, the United Nations will host its 2023 Water Conference in New York. Midway through the UN Decade for Action on Water and Sanitation (2018–2028), the 2023 UN Water Conference is a midterm review of accomplishments, shortcomings and lessons learned from non-governmental organizations, civil society activists, academic partners, private sector stakeholders and philanthropic organizations, amongst others.
As part of the United Nation's official agenda for the UN 2023 Water Conference, the One Drop Foundation will co-host two side events along with international partners and changemakers who share our vision of a water-secure and more sustainable world.
Valuing our Water – Investing in the Next Generation
Engaging participants with interactive tools, this session will share insights and experiences on food systems intersecting with water security and youth leadership in Greece and Lower- and Middle-Income Countries (LMICs). This one-hour virtual session will be co-hosted by the One Drop Foundation and the American Farm School (AFS), who will present case examples highlighting the importance of mobilizing young Leaders of Change in water management, conservation and sustainability.
Format: Virtual Event with interactive audience participation.
Date: Monday 20 March, 10 a.m. ET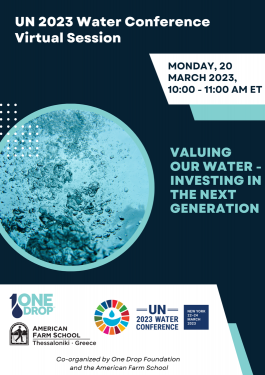 Be the Drop that Shapes the Wave
Participants in this session will dive into the One Drop Foundation's Social Art for Behaviour Change™ (SABC) approach as part of the unveiling of an art installation centered around the theme of water. Co-created over a two-month period, the installation brings together artists from the Latin American region and NYC-based artist Inma Barrero, as well as stakeholders from diverse sectors of action. As seen in the Lazos de Agua Program, social art builds a profound sense of involvement and ownership. Close to 100 participants from Latin America and New York are the co-creators of the final piece of art and will be the initial group to inspire others to join this movement.
Format: In-person at Le Skyroom at FIAF - 22E 60th St New York, NY
Date: March 23rd from 18:00 to 20:00 ET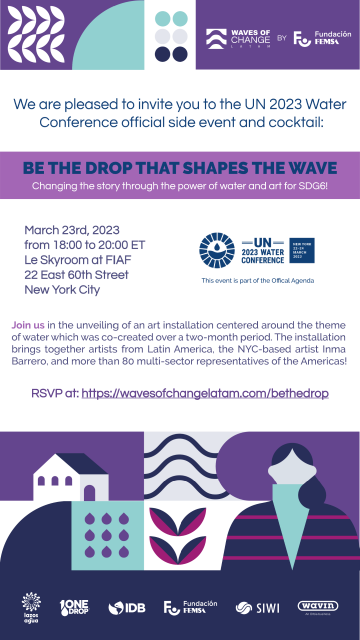 If you can't make it to our sessions but still want to support our mission, consider donating to the One Drop Foundation. Help us turn water into action.