News
Heart-To-Heart With Deb Belinsky: Water at the Heart of Business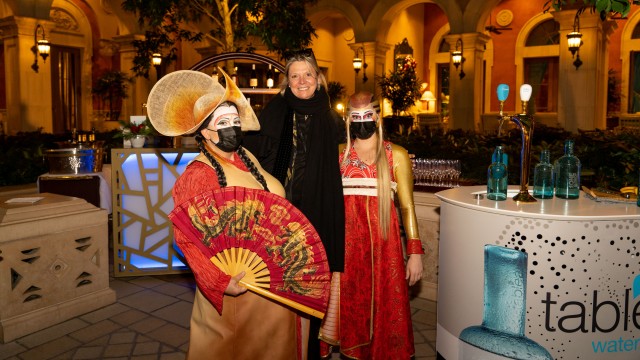 Deb Belinsky believes that quality water does not have to travel across the world to get to your table. A trailblazer in the water industry, Deb—Founder of sustainable, state-of-the-art, premium filtered water technology company tabl'eau—has always put the emphasis on the social impact of business. Today, she shares with us the inspiration behind her work, as well as her social engagement.
1. Water is at the heart of your business. It is also at the heart of your social engagement. How did your journey with water start? What made you want to get involved? Was there a tipping point?
Before starting tabl'eau, my previous business partner and I founded a company that specialized in sports entertainment. In-game technology was changing, arenas and stadiums now had videoboards which introduced in-arena live broadcasting and commercial timeouts. We saw the opportunity the in-game breaks would create—highly valued real estate, a blank canvas that could be used to build a team's brand through storytelling, customized experiences, and the ability to involve aligned partnerships.
People that know me from the sports industry have often asked, "You went from sports to water? How did that happen?"
It was after a sporting event that I joined fellow industry leaders for dinner. Once seated, several bottles of water arrived at the table. We were all thirsty, having been outside in the heat of the afternoon, and even more bottles came before the first course. The bottles were unique, I had not seen them before. I picked one up to take a closer look and saw the word "Norway". I was enjoying dinner in Mississippi, yet my bottled water came all the way from Norway.
How far does your water have to travel?
This is the only question tabl'eau asks. Once back home, I spent time searching for information on how much water is transported around the world, and very little data was available. I walked into a coffee shop in my neighbourhood and asked the barista, "How does your coffee taste the same around the world?" His answer was, "Easy, it's the water." So, across the world, coffee shops are producing water onsite that has the same flavour profile everywhere, meaning no matter where in the world you are, the product tastes the same.
Then why aren't we doing it...for water?
I could see it. It was a bit of a genesis moment. The applications we had built for sports met with a new category: water. It all came together. It was time to start building this new brand of table water: tabl'eau Filtered Water.
2. tabl'eau has been supporting the One Drop Foundation and its water access mission for many years. If you had to describe this partnership in a few words, what would they be?
Great partnerships are built on shared core values, based in service, and have measurable goals. The history of our partnership is grounded in respect for these elements and the valuable resource that is water. Water is essential to life.
tabl'eau was a very small startup when I learned about the One Drop Foundation. I was drawn to their mission of ensuring sustainable access to safe water, sanitation, and hygiene for communities facing extreme barriers through innovative partnerships, creativity, and the power of art. I knew then that one of tabl'eau's goals would be to develop and grow a partnership with the One Drop Foundation. They embodied all the elements of environmental, social, and governance (ESG) practices, and their initiatives were based on full accountability and transparent communication.
3. With so much uncertainty in the world and major challenges such as climate change and lack of access to natural resources for so many, as an entrepreneur, what role do you think businesses should play in making the world a better place?
As an entrepreneur, you're constantly thinking of both opportunities and risks in business. With increased extreme climate events and growing scarcity of valuable elements like clean water, you become aware of just how fragile our global ecosystems can be. We have an opportunity to protect these ecosystems by building sustainable business practices with climate-aware communities.
Just having an offset or give-back component isn't enough. I believe now more than ever that business has an incredible opportunity to work alongside partners and stakeholders to create meaningful impact in communities. Successful businesses are there to collaborate, share, and have the relationship flourish, it is about being a good partner. As business and community join and continue to define the landscape of ESG, finding ways to effectively measure impact—and using that data to build the narrative—is key.
As a business, you set the standard and seek opportunities for improvement for both your business and community. Whether it is building a strong leadership team that holds the same shared core values or analyzing your supply chain and the impact daily business practices have on the environment, businesses need to evaluate how they are communicating ESG initiatives with stakeholders and increase discernment so that communities can make choices more consciously.
4. What is your vision for the future of water and what is the message you would like to send to other women entrepreneurs who, just like you, would like to have a positive impact on the world?
Just as governance and leadership work to establish what will define sustainable management practices, innovation and technology are vital as work continues toward widespread solutions.
In the developing world, collaboration and support from local governments, key stakeholders, utility operators, and international organizations are imperative to stay the course.
How do we transition toward a sustainable water future?
Water solutions need to be designed to enable sustainable economic development.
As entrepreneurs, we are most often taking in content across many channels and can identify various problems to solve. It is through this identification that new businesses are created and built around solving a problem. Looking at industries as an outsider can bring fresh perspective. The opportunities to solve in the water industry and have a positive impact on the world are widespread. I would encourage anyone considering entrepreneurship to familiarize themselves with water.
Access to water is a human right. Water is essential for life, yet its value is constantly debated.
As we see water supply and sanitation face increasing pressure due to the impacts of climate change, innovation and technology have a vital role to play. Combine this with a greater willingness by the public and private sectors to test and adopt new technologies in the sector, and you have new opportunity. Entrepreneurs will play a critical role in a sustainable future with water. It is time to jump in.