Knowledge
The One Drop Foundation at World Water Week 2021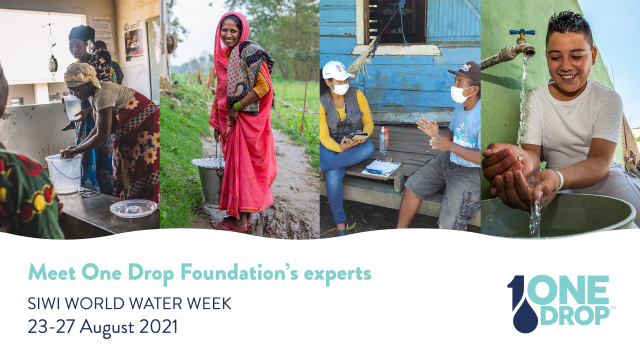 In 2021, World Water Week focuses on the major transformations that need to take place if we are to achieve the Sustainable Development Goals and slash carbon emissions.
Within a decade, we must rethink everything from how we grow food and generate energy to how we travel and use natural resources. This will require innovation on an epic scale and collaboration between people from all over the world with many different skills and backgrounds. Since all these transformations are closely linked to water, World Water Week has an important role to play as a meeting place for collaboration and learning.
Join us on 23-27 August and take part in the programme with the theme Building Resilience Faster. Here you find more than 300 sessions on a broad range of topics, curated by SIWI but convened by world-leading organizations that share their latest insights. Much of the programme evolves around five top challenges that require our immediate attention – learn more here about how they are linked to water.
Source : World Water Week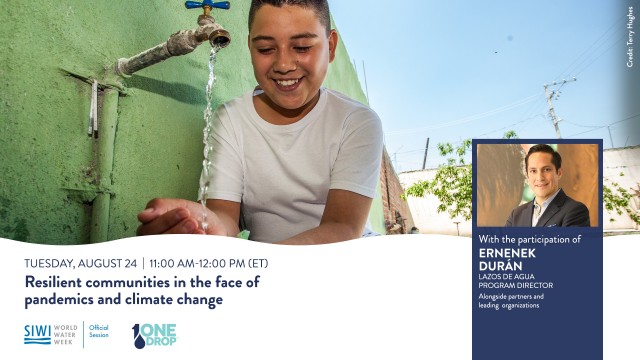 Resilient Communities in the Face of Pandemics and Climate Change
Tuesday 24 August 11:00 AM-12:00 PM (ET)
With the participation of Ernenek Durán, Lazos de Agua Program Director
Rural and peri-urban areas and poor regions of LAC face a wider gap to achieve SDG6. Context-adapted short, medium, and long-term actions build resilient communities to withstand hazards such as COVID-19 and climate change. This session highlights experiences, tools, and lessons learned to overcome these challenges in LAC. Pandemics and climate-change related disasters are here to stay and they both have huge implications for reaching SDG6 by 2030. This session brings together funders and implementers who will share case studies from across the Latin America region with various examples of resiliency in WASH in the face of pandemics and climate change. Covering responses including regulation, policies, governance, financial innovation, and sustainable approaches to behavior change – this session will tie together these case studies by looking at the macro, mezzo, and micro-level impacts.
Join us by clicking here !
Convenors
CAF - Development Bank of Latin America | Inter-American Development Bank | IRC | One Drop Foundation | Water For People | Water.org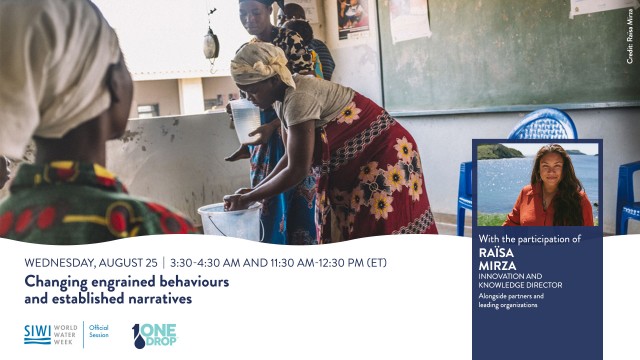 Changing engrained behaviours and established narratives
Wednesday 25 August 3:30-4:30 AM and 11:30-12:30 PM (ET)
With the participation of Raïsa Mirza, Director, Innovation and Knowledge
In this session the Communication & Behaviour Change Accelerator analyses specific techniques and provide practical examples of how to transform existing preconceptions and practices to drive genuine change in the water sector, bringing the importance of water to wider audiences and contexts. Raïsa Mirza, Director, Innovation and Knowledge, One Drop Foundation, talks about the power of social art for behaviour change and how art can trigger emotions that transforms into action. In the panel discussions that follows Cate Lamb, Global Director of Water Security CDP, Katie Velasco, Senior Director, RARE, Gerdien Seegers, Senior Programme Manager WASH, Plan International and Martine Visser, Researcher, University of Cape Town, will highlight behaviour change as key to system change and efficient methods to motivate individuals as well as business to adopt new, water- and climate-wise behaviours.
Join us by clicking here !
Convenors
Grundfos Foundation | Stockholm International Water Institute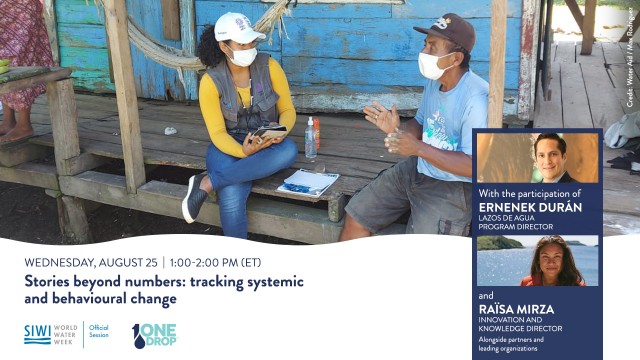 Stories beyond numbers: tracking systemic and behavioural change
Wednesday 25 August 1:00-2:00 PM (ET)
With the participation of Ernenek Durán, Lazos de Agua Program Director and Raïsa Mirza, Innovation and Knowledge Director
Practitioners share their experience applying inclusive mixed-methods tracking WASH and behavioural outcomes of a multi-country system strengthening program. Lessons reflect on the meaningful involvement of respondents and on overcoming practical hurdles in evaluating complex multi-stakeholder interventions through the implementation of household and service provider surveys, external evaluations, and story-based inquiries.
Join us by clicking here !
Convenors
FEMSA Foundation | Inter-American Development Bank | One Drop Foundation | The Coca-Cola Foundation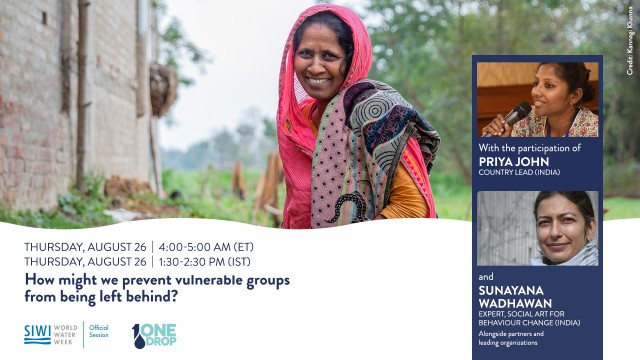 How might we prevent vulnerable groups from being left behind?
Thursday 26 August | 4:00-5:00 AM (ET) Friday 26 August | 1:30-2:30 PM (IST)
With the participation of Priya John, Country Lead and Sunayana Wadhawan, Expert, Social Art for Behaviour Change
The COVID-19 pandemic has revealed inequalities in society, where disproportionately women, children and the most vulnerable are at risk. In parts of Northern India, the initial foundation of strong WASH systems demonstrates resilience and ability to build back better, accelerated by components of Access, Behaviour and Capital. How do we prevent vulnerable groups from being left behind? Join us for an interactive session with an array of stakeholders and how they are contributing to this system; hear and see stories of change and learn how you too can adopt behaviour change, such as Social Art for Behaviour Change™ approach, working alongside priority groups, into your own work for greater impact.
Join us by clicking here !
Convenors
Centre for microFinance | One Drop Foundation | Water For People | WaterAid
Sessions recap by Visual Versa