Events
Daytime Auction - La Cuvée One Drop 2021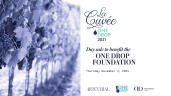 The One Drop Foundation, multidisciplinary auction house Artcurial, and Ducasse Paris are proud to partner once again this year in putting on a day sale, that is part of a largescale charity event in support of a vital cause: access to safe water.
Through this initiative, leaders in the gastronomic and wine sector have come together by donating extraordinary auction lots to support the One Drop Foundation. All net proceeds from this initiative will benefit its mission to ensure sustainable access to safe water, sanitation and hygiene to some of the world's most vulnerable communities.
To contact us : lacuveeonedrop@onedrop.org.
Thank you to our partners
Thank you to our ambassadors & donors
Champagne Barons de Rothschild
Château Mouton Rothschild
Château Lafaurie-Peyraguey
THANK YOU TO OUR DONORS
Sélection de la cave personnelle de Rafael Ansón Oliart
Argiano, Bernardino Sani
Château Bellefont-Belcier, Vignoble K
Vignobles Berthier, Clément et Florian Berthier
Champagne Boërl & Kroff, Stéphane Sésé
Maison Henri Boillot, Henri Boillot
Domaine Famille Bourgeois, Famille Bourgeois
Château Bouscaut, Sophie Lurton et Laurent Cogombles
Château Canon, Nicolas Audebert
Maison M. Chapoutier, Famille Chapoutier
Christopher Creek Winery, Joe Foppoli
Domaine Pierre-Yves Colin-Morey, Pierre-Yves Colin et Caroline Morey
Domaine Jean-Luc Colombo, Jean-Luc Colombo
Colomé, Larissa et Christoph Ehrbar
Caves Yves Cuilleron, Yves Cuilleron
Sélection de la cave personnelle de Laurent Dassault
Domaine Marcel Deiss, Jean-Michel et Mathieu Deiss
Domaine Delas Frères, Famille Rouzaud et Fabrice Rosset
Château Desmirail, Denis Lurton
Dönnhoff, Cornelius Dönnhoff
Domaine Drouhin, Famille Boss-Drouhin
Domaine Joseph Drouhin, Famille Boss-Drouhin
Alain Ducasse et Gérard Margeon
Domaine Dujac, Famille Seysses
Ferrari Fratelli Lunelli Spa
Château de Fonscolombe, Vincent Bergmann
Domaine Gerin, Jean-Michel Gerin
Sélection de la cave personnelle de Fabio et Armando Giovinetti
Domaine Henri Gouges,
Grégory Gouges
Maisons & Domaines Henriot, Bouchard Père et Fils, Gilles de Larouzière
Famille Hugel, Jean-Frédéric Hugel
Domaine Pascal Jolivet, Pascal Jolivet
Maison Krug, Olivier Krug et Margareth Henriquez
Sélection de la Cave personnelle de Guy Laliberté
Château Maris, Kevin Parker
Il Marroneto, Alessandro Mori
Château de Meursault, Olivier Halley et Stéphane Follin-Arbelet
Domaine Méo-Camuzet, Jean-Nicolas Méo
Michter's Distillery, Joseph J. Magliocco
Champagne Pierre Mignon, Pierre et Yveline Mignon et fils
Sélection de la cave personnelle de France Chrétien-Desmarais et André Desmarais
Nonino, Antonella Nonino et la famille Nonino
Domaines Ott * Jean-François Ott
Groupe Pernod Ricard-Cognac Martell, Alexandre Ricard
Château Pichon Longueville Comtesse de Lalande, Nicolas Glumineau
Château de Pommard, Familles Carabello-Baum et Giraud
Domaine Ramonet, Jean-Claude Ramonet
Château Rauzan-Ségla, Nicolas Audebert
Domaine Rousseau, Cyrielle Rousseau
Tenuta San Guido, Marchese Nicolò Incisa della Rocchetta
Venissa, Matteo et Gianluca Bisol
Domaine Alain Voge, Famille Voge et Lionel Fraisse
Château d'Yquem, Pierre Lurton
A Gala dinner and evening auction