Events
La Cuvée One Drop 2022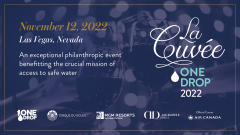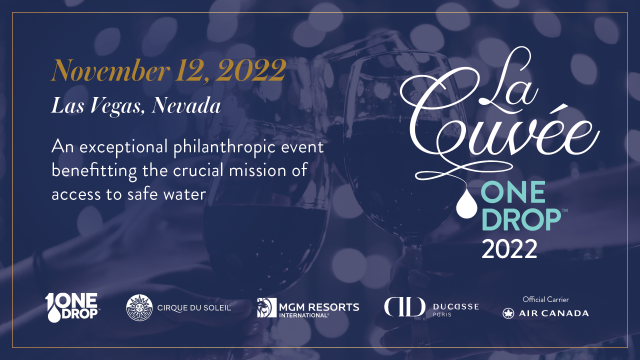 The One Drop Foundation is pleased to announce La Cuvée One Drop 2022, a philanthropic event benefitting its critical mission of ensuring sustainable access to safe water to communities facing extreme barriers, locally and globally.
The Foundation will celebrate its 15th anniversary with a gastronomic dinner designed by the team of Rivea by Alain Ducasse followed by an exciting performance from Cirque du Soleil and other surprise guests, an exclusive auction and after-party at Rivea Restaurant and Skyfall Lounge at Delano Las Vegas.
cuvée (a)
basic, everyday noun
[kuːˈvay]
A type, blend, or batch of wine, Champagne, or spirits, in which two or more grape varieties have been mixed.
Cuvée One Drop (The)
exceptional philanthropic event held in Las Vegas, November 12, 2022
[ree 'zerv 'now]
A coming together of creative, compassionate, take-action people finding enjoyable ways to raise funds in support of worldwide access to clean water for all.
The One Drop Foundation is delighted to announce its ambassador; accomplished professional equestrian show jumper, author, businesswoman, mother and philanthropist, Georgina Bloomberg, will serve as Honorary President for this flagship event.
Daniel Lamarre, Executive Vice Chairman of the Board, Cirque du Soleil Entertainment Group, and Bill Hornbuckle, CEO and President of MGM Resorts International will serve as Co-Chairs for La Cuvée One Drop 2022.
Thank you to our esteemed partners, Honorary President and Co-Chairs for their support!
La Cuvée One Drop 2022 philanthropic initiative raised $2.1M with an exceptional charity auction in celebration of the 15th anniversary of the Foundation.