Projects
Chucuchú a cada hora: A new song with virtual roots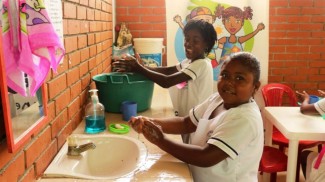 Access to safe water, sanitation, and hygiene, plus the adoption of sanitary measures, are essential in enabling vulnerable communities to protect themselves from COVID-19. Our Social Art for Behavior ChangeTM approach promotes key hygiene behaviours. This creative and complementary approach to infrastructure ensures the sustainability of the projects carried by One Drop and its partners, resulting in communities that are better equipped and more resilient than before.
Even in difficult times such as these, there are still ways to continue working towards healthier communities. Chucuchú all the Time is the English translation of a Spanish song that was born of a remote creative collab during the pandemic in Tumaco, Colombia.
With a rhythm reminiscent of the Caribbean and lyrics that promote handwashing with water and soap at key moments, this song is quick to bring a smile to your face: "And now Chucuchú all the time, it takes no time and I feel better, and again Chucuchú all the time, it takes no time, running water and soap."
This catchy number was created despite the technological challenges inherent in remote creative collaboration, keeping it in tune with key messaging from the Social Art for Behaviour Change (SABC) approach of the ConvidArte project.
ACOP—the group of artists leading the intervention—penned the lyrics, which were then shared with the Leaders of Change participating in the activity. And that's the story of how artists and community members came together virtually to bring Chucuchú all the Time to life.
The participants, who were Leaders of Change aged 20 to 40, reported that the exercise provided them with the know-how they need for proper handwashing, plus the technical savvy required to compose music with measurable social impact. It also kept them plugged in to the ConvidArte project, even with the physical distancing imposed by the pandemic, a factor that makes this piece of social art really stand out from the rest.
Now that the song is finalized, the next step is producing a video. Due to current constraints, digital platforms such as WhatsApp will empower the participants and make collaboration between the social art group and Leaders of Change as seamless as possible
Several participants shared that the overall process fostered a collaborative space. From its creation to roll out as an SABC tool, Chucuchú all the Time has been able to overcome physical distance. Now, Leaders of Change are using the song to virtually communicate the message of handwashing with water and soap at key moments, inspiring and helping others to keep this practice going in the community.
Without further ado, it's time to sing, dance, wash those hands, and turn water into action!
This is not the first time the project has burst into song. An earlier version of Chucuchú was dropped a few months ago and has been a real success.
Listen here
Learn more about the project