Sectors of Action
Let's talk about Menstrual Hygiene Day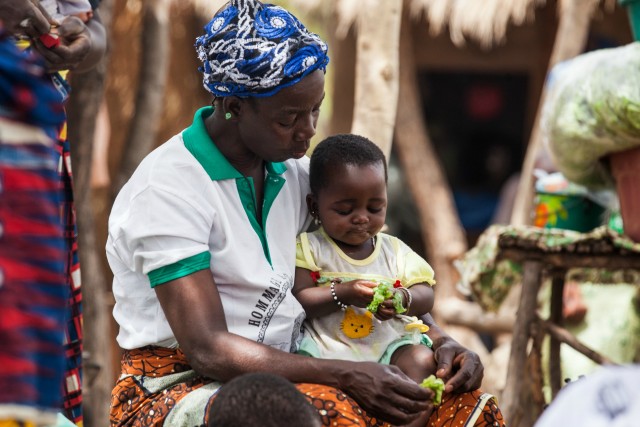 Photo credit: Terry Hughes
Update : May 2021
Around the world, millions of adolescent girls, women, and others who experience a menstrual cycle lack access to safe water and sanitation. Without this basic resource, it is impossible for them to manage their menstruation in a hygienic way. Something has to change. And it begins with creating widespread awareness about this important issue.
Raising awareness and starting a dialogue about menstruation
Menstruation is a normal biological process and a sign of reproductive health, yet in many countries, it is a taboo subject. In fact, in several parts of the world, menstruation is still perceived as something shameful and utterly private. Menstrual Hygiene Day, which falls on May 28, was created to recognize the right of people everywhere to hygienically manage their menstruation—and to get people talking about the challenges women, girls, and others who menstruate face worldwide.
Easy access to safe water plays an important role in menstrual health
Lack of access to safe water and sanitation disproportionately affects women and girls. Furthermore, managing menstruation in a hygienic way is especially challenging since it requires adequate sanitation facilities. This negatively affects women's health, safety, and dignity while keeping girls out of school on a regular basis preventing their equal education. At One Drop, part of our commitment to providing sustainable access to safe water is about ensuring that women and girls are at the forefront of positive change through their participation in social art activities.
Empowering women to improve the sustainability of water services
We believe in the importance of getting women and girls involved in water and sanitation management when it comes to challenging social norms. By making women's voices louder and more articulated and empowering them to make a difference, we are giving them a better chance at improving their reproductive health. We are also committed to providing schools with private latrines and separate facilities for boys and girls that are equipped with safe water, which creates an environment that is conducive to girls attending school. In addition, we believe in the importance of women's groups and having women participate in influential groups such as WASH committees. This is crucial for raising awareness, creating dialogue, and engaging entire communities—including men, since they also have an important role to play in providing safe and hygienic environments for women.
Supporting entrepreneurship around menstrual health in Burkina Faso
As part of the Saniya So+ Project, 27 Leaders of Change from local cooperative MUNYU received training, materials, and financial support to help implement their own micro-businesses selling liquid soap and menstrual health kits. The menstrual health kits were developed with the user in mind, offering products in fashionable colours and different sizes to be attractive to adolescent girls and women alike. Additional income generated through the fabrication and sale of these products will allow members to become financially self-sufficient, develop local female entrepreneurship, and support the health and well-being of people who menstruate in project communities.
Working together toward the UN's Sustainable Development Goals
These goals from the United Nations are about ending poverty, fighting inequality and injustice, and tackling climate change. More precisely, Goal 6 aims to ensure the availability and sustainable management of water and sanitation, with a specific target that involves giving women and girls access to adequate sanitation and hygiene by 2030. To achieve this, the needs of menstruating people cannot be ignored. At One Drop, we stand behind this wholeheartedly and are committed to improving the lives of women, girls, and others who experience a menstrual cycle by helping them to get access to safe water, hygiene, and sanitation.
Keep learning about our projects by subscribing to our newsletter!