Projects
World Water Day : four communities in Nicaragua can now benefit from a new water system
Photo 1 of 3 - Robin Cris Centeno Castro, a nurse at San Pablo Health Center in Tasba Pri, Nicaragua, stands in front of the clinic's new bathrooms. (Photo: WaterAid - Eduardo Rodriguez)
Photo 2 of 3 - Construction of a water storage unit in Leymus Kukalaya Community. Pablo Valle, 2019 (Photo: WaterAid)
Photo 3 of 3 - Construction of the water catchment system in Tasba Pri community. (Photo: WaterAid - Eduardo Rodríguez)
Photo 1 of 3 - Robin Cris Centeno Castro, a nurse at San Pablo Health Center in Tasba Pri, Nicaragua, stands in front of the clinic's new bathrooms. (Photo: WaterAid - Eduardo Rodriguez)
Photo 2 of 3 - Construction of a water storage unit in Leymus Kukalaya Community. Pablo Valle, 2019 (Photo: WaterAid)
Photo 3 of 3 - Construction of the water catchment system in Tasba Pri community. (Photo: WaterAid - Eduardo Rodríguez)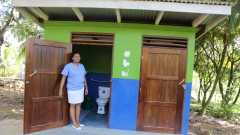 Photo 1 of 3
Robin Cris Centeno Castro, a nurse at San Pablo Health Center in Tasba Pri, Nicaragua, stands in front of the clinic's new bathrooms. (Photo: WaterAid - Eduardo Rodriguez)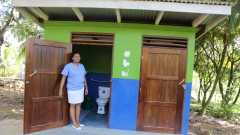 Robin Cris Centeno Castro, a nurse at San Pablo Health Center in Tasba Pri, Nicaragua, stands in front of the clinic's new bathrooms. (Photo: WaterAid - Eduardo Rodriguez)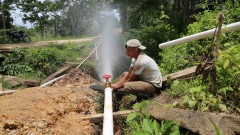 Construction of a water storage unit in Leymus Kukalaya Community. Pablo Valle, 2019 (Photo: WaterAid)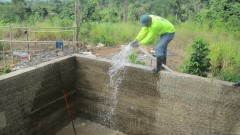 Construction of the water catchment system in Tasba Pri community. (Photo: WaterAid - Eduardo Rodríguez)
Thanks to a new gravity-fed safe-water system, a community health centre, a number of schools, and numerous homes in four indigenous communities in the municipality of Puerto Cabezas now have reliable access to safe water.
The system, which includes water intake and treatment as well as two water storage tanks and 30 miles of pipe, provides safe water to more than 1,000 people, 24 hours a day, 365 days a year, and four area elementary schools are also benefitting from the system's safe water. The project also included new infrastructure, with the 4 schools and in the nearby San Pablo Health Center all having toilets and handwashing stations installed to accommodate people with disabilities.
"I do my best to give dignified care to my patients. The biggest problem was the lack of latrines, which are essential in a community health centre. We now have a decent flush-toilet and a shower."
Robin Centeno, a nurse at the community health centre where the system was installed
Along with building the infrastructure and adding to the sustainability of the system, local water and sanitation committees were trained in governance, water resource management, operation, and maintenance. In addition, the communities have 18 new hygiene promoters, who regularly visit households to teach proper water storage techniques, handwashing, and other water-related hygiene habits. As part of Nicaragua Rural's Social Art for Behaviour ChangeTM (SABC) interventions, community theatre is used to address specific targeted behaviours: household drinking water treatment and safe storage and payment of the water service tariff. Further, local sanitation entrepreneurs are providing their services to install flush toilets in their community.
This new safe-water system, which contributes to improving living conditions in a region that has one of the highest rates of poverty in the country, was made possible by the collaboration of the Lazos de Agua's Nicaragua Rural Project, our partner WaterAid, and the communities themselves.
The Lazos de Agua Program is a multi-stakeholder partnership between One Drop, the Inter-American Development Bank (IDB), The Coca-Cola Foundation, and Fundación FEMSA.