Projects
One Drop steps up its goal: Ensure sustainable access to WASH to 1.6 million people worldwide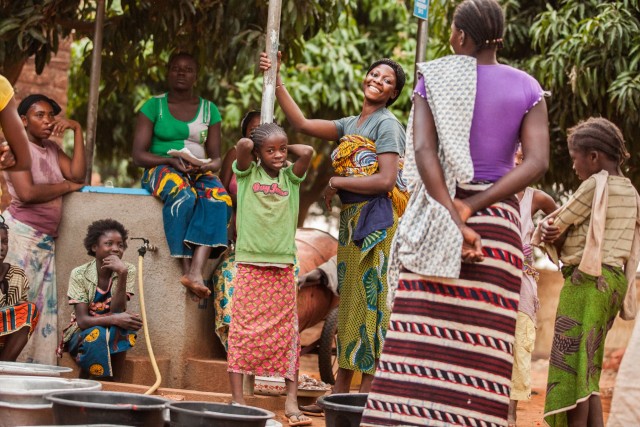 At One Drop, we work together with communities, local organizations, NGOs, foundations, governments, multilateral entities, governmental agencies, and the private sector — to increase access to water, sanitation, and hygiene (WASH) services around the world. The result of this collaborative work is a reduction in risk of disease, and a reduction in both poverty and inequality.
Multi-stakeholder partnerships in Africa, America, and Asia have allowed us to strengthen the capacities of people, institutions, and service providers; to facilitate access to WASH-related financial products; and to help improve livelihoods in vulnerable communities. We have raised our target and One Drop now aims to reach 1.6 million people worldwide.
Here are some project highlights from 2019:
Projects in Africa |
ECED-Sahel – Burkina Faso:
Thanks to this project, over 12,000 people have adopted healthy sanitation and hygiene-related habits, a remarkable achievement in a region where open defecation was a common practice. In the communities of Gorom Gorom and Falagountou, ECED-Sahel has contributed to income generation for 1,000 people thanks to agro-pastoral activities, and has exceeded its goal for access to sanitation (reaching 21,000 people instead of the planned 15,000). It has also involved more than 72,000 people in Social Art for Behaviour ChangeTM (SABC) interventions and over 45,000 in educational activities, despite security issues. Soon, in the community of Dori and its surroundings, over 40,000 people will have access to drinking water 24 hours a day, 7 days a week.
InPATH – Malawi:
InPATH has added the district of Salima to the two districts it serves. This will increase the number of people who are able to improve their living conditions; there are currently 200,000 participants in the project. The 2019 year also saw InPATH's team build the SABC strategy in partnership with the Malawian Ministry of Health, based on formative research and barriers analysis. Malawian artists are at the core of the process, and various key target groups are being engaged through SABC interventions.
Ji Ni Beseya – Mali:
As this project draws to a close, about half of the households living on the project's territory have now integrated the practice of installing and using handwashing stations placed next to their toilet's exit. The most recent overall project evaluation confirmed that 80% of young people involved in the project currently wash their hands regularly. According to most of the youth in question, this behaviour was adopted after their participation in various SABC interventions, such as the activities carried out by the school hygiene clubs and the theatre shows for the whole community. Ji Ni Beseya is making steady progress towards improving the lives of 60,000 people through SABC activities. The project supports people in building, using, and ensuring the cleanliness of toilets; well-maintained vessels for water storage and transportation; and handwashing stations with soap.
Projects in America |
Lazos de Agua Program – Latin America
ConvidArte – Colombia: The project has been integrated into the Tumaco municipality's roundtable for water and sanitation, and has been promoted among its members; the SABC approach is a major point of interest. The knowledge transfer process has now begun with respect to the best approach for the local water provider's social team. In another 2019 milestone, the project's business training now involves governmental agencies, which means micro-entrepreneurs and technical support professionals are recognized at an institutional level. Finally, a roadmap for integrating a gender-sensitive approach in each of the project´s components has been defined, as have pertinent indicators.
Guanajuato Project – Mexico:
As of June 2019, we have exceeded the target number of participants benefitting from both WASH infrastructure and SABC interventions, reaching a total of 16,655 people so far. There was also an increase of 151% in the number of Leaders of Change trained in 2019, with a total of 327 women and men from the community who can now carry out social art activities to address WASH-related behaviours. The project is presently taking steps to integrate our SABC approach into governmental programs that focus on water, infrastructure, and social attention; an Integration Committee has been created to take the practical steps required.
Nicaragua Rural – Nicaragua:
Over the course of 2019, this project focussed on strengthening the general community management abilities of the Drinking Water and Sanitation Committees, including enhancing the committees' capabilities regarding the coordinated efforts between the municipalities of Waslala, Waspam, and Puerto Cabezas, and the regional government of the RACCN. Training for Leaders of Change has begun, as has the "Alianza agua para Waslala" (Partnership for Water in Waslala) initiative, which aims to facilitate access to WASH products and services based on a value-chain strategy. The "multiplying factor" of our SABC interventions was evident in the project's 85 SABC interventions that were led by Leaders of Change this past year.
Quiché Project – Guatemala:
The One Drop A∙B∙C for Sustainability model and the Water For People "Everyone Forever" model both reached their peak degree of integration in the Quiché Project this year, and the results have been impressive: water system targets in communities and schools were met; Quecá (Santa Cruz del Quiché Department) was certified as an open-defecation-free community; and a forum on sanitation and micro-financing was organized. Among the project's SABC interventions, 45 forum-theatre shows were presented in 2019, covering all three behaviours addressed by the project.
Y Kuaa – Paraguay:
In a participatory process that included three new sanitation boards, strategic action plans were developed; these will soon be complemented with business plans. In addition, 40 local technicians were trained in areas including community organizing, financial management, water quality assessment, and plumbing, in the aim of strengthening the management capabilities of the local sanitation boards. With respect to the project's SABC interventions, the strategy for rural areas was redesigned to increase participation, and knowledge transfer has begun to teach SENASA more about the SABC approach. And regarding capital investment, the strategy was adjusted in accordance with the value-chain analysis that was recently completed.
Pirursiivik – Canada:
Local women and men of all ages are getting involved with this project, which has increased their year-round access to nutritious food. Throughout 2019, miniature greenhouses were built and delivered to local community organizations. A site for the community greenhouse was identified, the first regional greenhouse growing training session was held to teach new techniques for soil maintenance and hydroponic growing. A community composting box was set up to begin transforming local food waste into soil, and discussions are now underway to support the municipality in scaling up to an industrial composting system. In addition, Tupiq A.C.T — the Inuit social circus troupe supported by the Pirursiivik project — won a grant from the Conseil des arts et des lettres du Québec to create its first full-scale show.
Prisma 2 – Haiti:
The baseline study on WASH in healthcare facilities was completed by our executing partner, CCISD, with the support of the Centers for Disease Control and Prevention. An innovative approach to long-distance support for SABC design was also developed, and it was put in place to ensure continuity in operations despite the evolving security situation in Haiti. As part of the SABC design process, a core group of Leaders of Change has been identified; this group, which is committed to making change happen in its members' communities, will lead the SABC design and implementation process over the course of the project.
Projects in Asia |
Sheohar 2 – India:
After the success of Sheohar 1 (which exceeded expectations in regards to the numbers of participants) we began a second project in the area: Sheohar 2 has thus far installed 110 community water points, and has engaged the community by implementing 40 Community-Led Total Sanitation (CLTS) sessions, and presenting 30 multidisciplinary shows, 160 street plays, and 120 film screenings. A total of 1,700 sanitation loans were also disbursed; the repayment rate is of 100%.
Rajasthan Project – India:
More than 11,500 students and teachers have benefitted from new or improved WASH facilities in schools. So far, more than 230,000 people have participated in the project's SABC interventions, which include thematic shows on sanitation and handwashing. Menstrual Health Management (MHM) is a fundamental axis of the Rajasthan Project; nearly 4,000 MHM awareness sessions for girls and women have been held in schools and communities. The project was also invited by the state government to provide MHM training sessions at the state and district level, and organized a state consultation on MHM with the Ministry of Women and Child Development.
Bihar Project – India:
This newly launched project aims to enable sustainable safe water coverage for 250,000 people in the Sheohar District. The three principal goals of the Bihar Project are to increase the use and sustainable management of safe water and sanitation services; to encourage the adoption of sustained targeted water-related behaviours; and to improve the market system for water-related products and services.
Learn more about our impact