News
Ovivo and the One Drop Foundation Announce a Continued and Impactful Partnership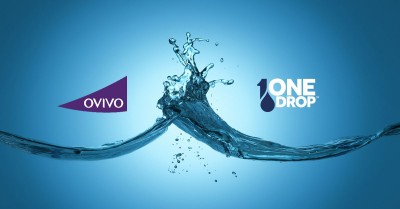 Ovivo Inc. and the One DropTM Foundation are proud to announce their renewed and strengthened partnership today, with Ovivo committing $750,000 CA over the next three years to support One Drop Foundation's mission and programs. During the past year, the two like-minded Canadian-based organizations have worked together to promote the value of sustainable access to safe water in regions affected by the global water crisis. The One Drop Foundation also organized and led several employee activities to engage the global Ovivo team towards its unique Social Art for Behaviour ChangeTM (SABC) approach.
"Environmental and social sustainability is one of our top strategic objectives and has always been part of who we are. Our long-term vision allows us to grow our business in harmony with our environment and for the benefit of the future generations. We are proud of our partnership with the One Drop Foundation as it reinforces our vision to be the preferred partner for those who value water as much as we do and we are delighted to support specifically the Indigenous Youth, Art and Water Initiatives co-created by the One Drop Foundation and its partners" said Marc Barbeau, President and CEO of Ovivo.
''The partnership between us continues to evolve, and we are excited to count Ovivo as one of the initial partners for the Indigenous Youth, Art and Water Initiatives co-created by the One Drop Foundation and its partners. We hope to strengthen networks and collaboration globally, regionally, and nationally to build resilient water, sanitation and hygiene systems together. We thank Ovivo for their trust and continued generosity and commitment to the One Drop Foundation. Together we are turning water into action," said Jean-Louis Dufresne, CEO of the One Drop Foundation. Both Ovivo and the One Drop Foundation believe that collaboration is key to achieving United Nation's Sustainable Development Goals (SDGs), reinforcing their commitment to address global and societal issues and challenges related to water access and sanitation and hygiene services (SDG 6).
Another aspect of Ovivo's partnership is the sponsorship of One Drop Foundation's Water in Action. This fundraising campaign consists in a 5 km fun run to be held physically in Montreal on October 9, 2022, and virtually around the globe throughout the fall. The prize-filled event is looking to change the world through collective action by encouraging people and corporations to make their own contribution to help move the world closer to safe water for all. A portion of the funds raised in Canada will directly support Social Art initiatives in Indigenous communities throughout Canada. To learn more about the Water in Action fun run event, click here.