News
SABC: When equity and diversity foster positive change at multiple levels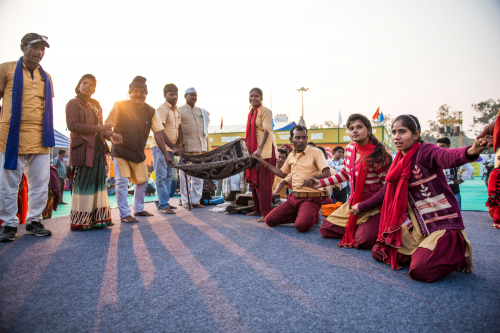 For Priya John, India Country Lead at the One Drop Foundation, art has the power to open eyes and hearts, pushing people to reflect and act. She believes it is people—in all their diversity and complexity—who ignite every process in the WASH sector, and therefore strategies should aim to connect with emotions. Priya tells us why art is the perfect vehicle.
Do you remember having seen or experienced a moment or a situation in which art was a vehicle for change, be it big or small?
Art results from the deliberate expression of creativity by an artist or a group of artists working together. Those who witness, engage, or participate in the arts are moved by their beauty, truth, and energy in myriad ways. On days our moods stubbornly refuse to lift, we all have felt the magical effect upbeat music has on us. Art can literally lift our spirits and make us feel differently from one moment to another. Art leaves its mark not only on individuals, but also on communities and the larger society. It can provoke and coax people to change or move towards change.
The 2021 Malayalam-language film The Great Indian Kitchen was a scathing depiction of the tedium and relentlessness of women's drudgery in Indian households. I witnessed how this film opened conversations within households and outside—between family members, friends, and community members—about how women's domestic labour is disregarded and devalued. It proved to be an eye-opener and instigated many to re-examine their household dynamics vis-à-vis the assigned gender roles and responsibilities. This is indeed the power of art!
How do you think the WASH sector can benefit from implementing artistic and behaviour change approaches?
I believe the WASH sector across the globe can benefit immensely from placing people at the heart of the solution. Since people are an integral part of the WASH system, for the system to work, they must be the ones to start turning the big wheel.The people include not only communities lacking basic infrastructure and facilities, but also those running the governance bodies, markets, state administrations, ministries, etc. If the wheels are to start turning, then the people need to be mobilized, inspired, and motivated to work towards it.
Arts infused with social and behaviour change methods are effective in steering people to the threshold of change and then urging them to lead and own that change. The One Drop Foundation's Social Art for Behaviour ChangeTM (SABC) approach is one such approach where change is inspired, activated, and sustained among people. Theories of social systems and human behaviour are combined with the beauty, imagination, and energy of the arts to galvanize the rational mind and tug at heartstrings while moving towards lasting change. This is the need of the hour in the WASH sector.
Having seen the implementation of SABC, tell us how you think it allows diversity to become a powerful source of change and sustainability in different communities.
In my experience, the SABC methods and processes rest on utmost participation and inclusion on the ground. On the one hand, the approach demands a precise mapping of the diverse segments within a community, which sets the stage for a focused engagement of marginalized groups in the SABC processes. On the other hand, even the implementers of SABC represent diverse cultural traditions and art forms relevant to the context.
SABC's spirit of equity and diversity has the potential to foster positive change at multiple levels, including within households, in the community, and at governance or administrative institutions. Further, for sustained change, SABC needs the foundation set forth by a systems approach, as seen in One Drop's A·B·C for SustainabilityTM model. In this way, through participation and engagement, SABC sets in motion change which can grow and sustain over time—only with the bulwark of access to safe infrastructure or facilities, fair markets, and steady sources of income, especially for poor and marginalized groups.
Which actors from a WASH project should be involved in artistic processes? Why?
I believe that literally all the actors in a WASH project can be involved in artistic processes. All the people within a WASH system who can make things happen should ideally be engaged through the arts. Specifically, it is time to engage actors in local institutions, administration, and governments who are key to reaching the most vulnerable and marginalized in society. Who can be oblivious to the arts? Art touches each of us in some way or another. If our goal is to influence and inspire people to act, then art is the perfect vehicle to achieve this.
You had experienced the SABC approach before the free online course Social art for behaviour change: The basics was created. What did the course add to your knowledge about SABC?
The course added both to my knowledge of behaviour change in general and SABC, specifically. It, firstly, helped me immensely in systematizing and organizing what I understood about SABC through its implementation in India. Additionally, the online course helped me re-establish the centrality of behaviour change in sustainable and community-led WASH efforts.
Within SABC intervention design, I better understood the need for profiling priority groups along with the role of secondary groups and influencers in interventions. My biggest takeaway was the different stages of behaviour change and how relapse is part and parcel of the whole process. Due attention to potential relapse then becomes essential in the Activate and Sustain phases of the SABC interventions.
Explore the basics of the One Drop Foundation's Social Art for Behaviour Change approach with this online course and discover how art can change lives.