Knowledge
The Importance of Recognizing Those Who Clean as Key Contributors to Health Care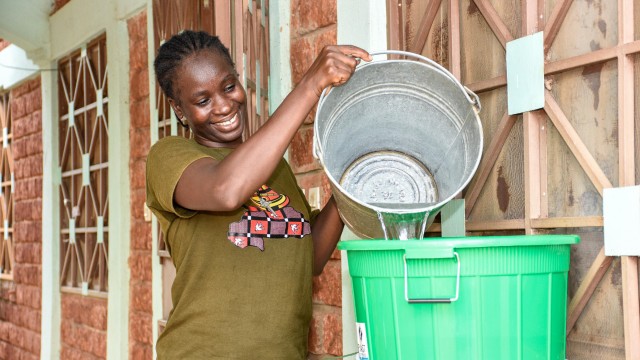 An investment in their future, and ours. 
Imagine an occupation where, every day, you feel that you are putting your own life at risk. Where you are expected to keep everyone around you safe and reduce their risk to infection, yet you have neither the formal training nor the necessary tools to fulfill the basic requirements of your job.
This is the reality that many cleaners of health care facilities worldwide face, coupled with the distressing statistic that a quarter of health care facilities lack basic water services, exposing 1.8 billion people to the risk of infection1. At the One Drop Foundation, our mission is to provide sustainable access to safe water, sanitation, and hygiene (WASH) for the most vulnerable communities worldwide. How can patients expect a safe, hygienic environment and quality care when there are no WASH services available in health care facilities? From cleaning surfaces to handling and safely disposing of medical waste, those who clean are the frontline health workers who are expected to ensure environmental hygiene and Infection Prevention Control (IPC).
Unfortunately (or fortunately, depending on how you look at it), the pandemic has put the spotlight on the severity of this global problem and provided a platform to bring this shortfall to the forefront. Storr, Kilpatrick and Lee's 2021 discussion paper Time for a renewed focus on the role of cleaners in achieving safe health care in low- and middle-income countries is a timely must-read article that provides insights into the current context, drawing on existing data, guidelines and initiatives and packages five areas for consideration2 that can strengthen and ensure an enabling and safe health care environment.
Storr et al. highlight the importance of both the WASH and health sectors making a concerted effort to focus on cleaners. This article is not only relevant in light of the pandemic, but it also provides key considerations in protecting this undervalued and excluded workforce3, with a needs-based, inclusive and participatory lens that is very much aligned with One Drop's values, vision and the underpinning of our Social Art for Behaviour ChangeTM (SABC) approach. Through social art activities, we engage with priority groups such as cleaners and explore the barriers and drivers that can change and sustain behaviours according to standards. Through the arts, this participatory process is designed to evoke an emotional response, spark dialogue, and trigger and sustain change.
One Drop supports the Saniya So+ project in Burkina Faso, in partnership with Espace Culturel Gambidi, who facilitated an SABC photo portrait activity with health workers and community leaders to capture the roles of various professionals, including the cleaners who keep the health system operational. The exhibited portrait photos of the professionals practising hygiene and sanitation behaviours not only demonstrated the important roles that all health workers play in ensuring quality care, but also provided a space for dialogue amongst the workers and an opportunity for introspective reflection. In one of the health care facilities, a cleaner named Pascaline reported that when she saw her photo on display with the other health workers, she made the connection between her role and others within the facility and gained a new perspective on the value and importance she brings to ensuring a hygienic and sanitary environment.
The problem goes beyond WASH access; infrastructure alone will not result in quality health care. As Storr et al. imply, there is a need for systems change and a shift in behavioural and social norms. Those who clean can no longer be overlooked and must be recognized as key contributors to health care. They must receive adequate training, supplies and handwashing facilities to support the health of patients, colleagues and, of course, themselves.
The World Health Organization (WHO) and UNICEF have made numerous efforts to highlight the important work of those who clean, including publishing results of the global state of WASH in health care facilities, drafting proposed actionable steps, developing multiple guidelines, outlining norms and standards, and issuing calls to action—all of which have resulted in a movement that brings together the WASH and health sectors for greater collaboration and impact. Specific to those who clean and the environmental cleaning of health care facilities, GlobalWater2020's Guidance Note4 details 12 practical actions that partners, government, civil societies, advocates and donors can undertake to elevate the critical role that those who clean can play in maintaining health care safety.
There is no better time to move the needle and address this overlooked and undercompensated workforce. Together, we can turn water into action in health care facilities and communities worldwide and ensure health and safety for all.
References:
1. https://washdata.org/sites/default/files/2020-12/WHO-UNICEF-2020-wash-in-hcf.pdf
2. The five areas for consideration are: enhancing the available data; implementing norms and standards; combing advocacy efforts; revisiting investments; and addressing the research gap.
3. A workforce that commonly faces barriers of gender and social exclusion.
4. https://www.washinhcf.org/resource/elevating-the-role-of-cleaners-in-healthcare-facilities-a-guidance-note/
About the author:
Lauren Alcorn is the Director of Strategic Partnerships at One Drop. With over 15 years of experience working in the WASH sector, she is responsible for fostering partnerships with sector and business/industry actors working to accelerate the progress of SDG6. Lauren is spokesperson for the organization's WASH in Health Care Facility initiatives, and she is a proponent of indigenous rights, gender equality and inclusion. Lauren has an MSSc in Development and International Relations from Aalborg University, Denmark and a BA from Dalhousie University.