News
The Sheohar 2 Project: Fostering Lasting Change through Water and Art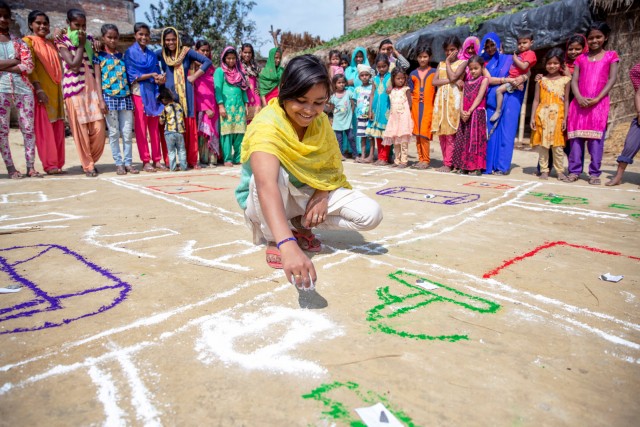 Like many regions in India, the district of Sheohar faces numerous challenges related to water, sanitation, and hygiene (WASH). Water contamination and open defecation have made illness common in many villages, and at the district level, almost 14% of children under the age of five were reported as experiencing diarrhea in the two weeks preceding the National Family Health Survey (2015-16).
Against this backdrop, the One Drop Foundation has collaborated with Water For People to address WASH concerns and to improve living and health conditions for community members in the district.
Through a merger of One Drop's A·B·C for SustainabilityTM and Water For People's Everyone Forever models, the Sheohar 2 project focused on improving WASH services, access to credit, and harnessing the power of art to promote key behaviours related to water, sanitation, and hygiene.
After three and a half years of implementation, the project has reached almost 260,000 people through improved WASH services and One Drop's Social Art for Behaviour ChangeTM (SABC) initiatives. As the project reaches its end, we look back on the results that were achieved by, with, and for the communities of Sheohar.
Improving WASH infrastructure in Sheohar
The project's aim was to promote the development of high-quality drinking water and sanitation services that would be accessible to everyone in the Sheohar district and sustained by local communities, businesses, and governments. Over the project's implementation, nearly 400 community handpumps were constructed or repaired and five iron filtration systems were piloted in the project areas to address water contamination. Additionally, WASH facilities were constructed in 36 schools and two health care centres in the district.
Blending traditions and digital technologies through social art
The impact of an artistic performance is amplified when it is rooted in local culture and tradition. Building upon centuries of folklore and storytelling traditions, the Sheohar 2 project collaborated with local artists to develop a pilot on traditional storytelling. Drawing inspiration from the 450-year-old story of Natua Dayal, these artists created an interactive storytelling performance centred on the behaviour of toilet use among men. This priority group (men or male heads of households) was also involved in the process of selecting the folklore and developing the performance, which generated spaces for meaningful exchanges between artists and community members. The pilot showed promising results related to willingness to adopt the behaviour of toilet use by the priority group.
In parallel, three interactive games were developed to maintain healthy WASH-related behaviours beyond the project period. Ludo—a popular board game in India—was adapted for the digital space to encourage and maintain the behaviour of toilet use among players. Inspired by arcade games, Paanipur focuses on accessing water from safe sources along with the safe handling and storage of water while challenging gender stereotypes and norms. The third game—Haath dho daalo—was designed with fun traditional tunes to maintain the habit of handwashing with soap, specifically among children.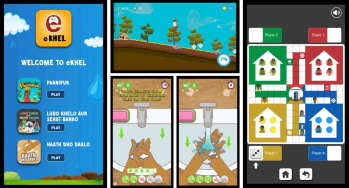 As part of the project, more than 500 shows were performed by local artists to promote key behaviours such as handwashing with soap, toilet use, and the safe storage and handling of water. True to the spirit of SABC, community participation and involvement was at the core of every performance.
All the artists performing at the multidisciplinary and thematic shows were organized and formally registered as theatre groups, which aided them in seeking other engagements and formalizing their membership and operations. Owing to their involvement in SABC interventions in Sheohar 2, several theatre groups were later engaged by the state government and development agencies to continue their work in other projects in the region.
Supporting local organizations and market-based solutions
With 89% of India's groundwater being used for irrigation, farmers play a fundamental role in the country's overall water management. Over the course of the project, a total of three farmer producer organizations were formed and registered, helping farmers gain access to training in agricultural water-use efficiency techniques. These farmers were also linked with government schemes for financial support to adopt techniques for water-use efficiency.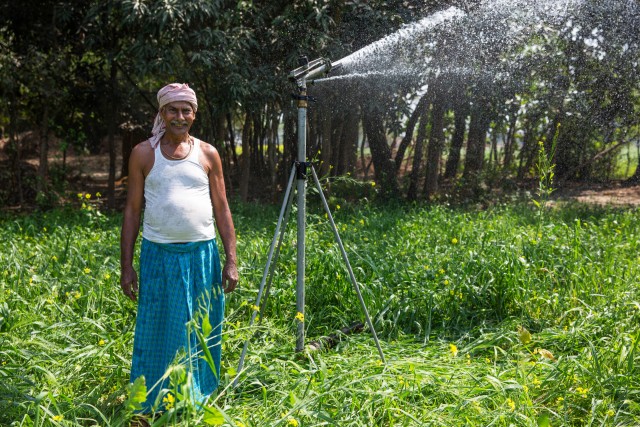 Furthermore, 15 points of purchase were established and kept operational in the project areas, making it easier for people to access the materials required for the construction of toilets. The project also improved the access to credit for sanitation purposes through a microfinance institution. Through these initiatives, over 23,000 people have gained access to basic sanitation services.
Multisectoral collaboration for the SDGs
The One Drop Foundation and Water For People believe that long-lasting water and sanitation solutions can be realized only when key players from civil society, government, and the private sector willingly and proactively take responsibility for facilitating water and sanitation development in their communities.
Through our collaboration with the block and district administration, partner NGOs, community-based organizations, local institutions, and the private sector, our impact has gone beyond the scope of Sustainable Development Goal 6. Advancing universal access to safe WASH services in Sheohar has directly supported several SDG targets related to health, education, gender equality, reducing inequalities, and climate resilience/adaptation, thereby improving the lives of community members across the district.
While this project comes to a successful conclusion, the One Drop Foundation continues to pursue its mission in the state of Bihar through Project Boond, aiming to further improve the quality of life of marginalized groups through community- and institution-led sustainable and equitable access to WASH services.
One Drop Foundation thanks METRO AG and United Technologies Corporation (UTC) — as well as the project's executing partner, Water For People, and Sheohar's local administration — for making this life-changing project possible!