Fundraising Initiatives
This October Help Us Raise Awareness and Funds With the Water in Action Fun Run
Access to safe water is essential for healthy, thriving communities. Yet, to date, more than 2 billion people around the world still do not have adequate access to safe drinking water at home. Together we can change that and take action to raise awareness and funds for this vital cause locally and globally. Here's one way to help :
On October 9 in Montreal—and throughout the months of October and November online—the One Drop Foundation is inviting everyone to be a part of the Water in Action campaign. In collaboration with Cirque du Soleil, we are moving to help change the world through collective action. Whether you show up in person at Parc Frédéric-Back in Montreal or virtually, you can take part in this prize-filled 5k fun run in support of the One Drop Foundation's local and global safe water initiatives.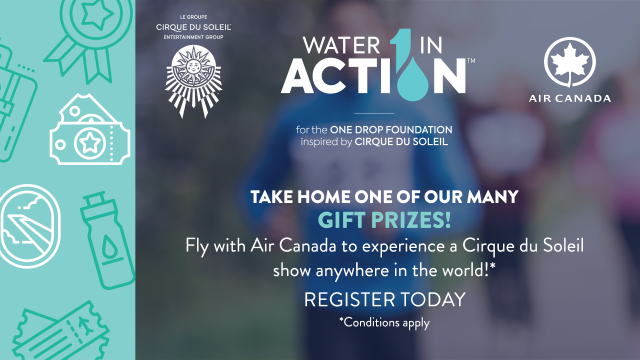 Join Water in Action and turn every step you take towards safe access to water for all into an opportunity to fly anywhere in the world with Air Canada for you and one of your guests. Experience the magic of Cirque du Soleil at the front row – the world is your stage with Water in Action, Cirque du Soleil, and Air Canada. Terms, conditions, and exceptions apply. 
The One Drop Foundation would like to thank Cirque du Soleil for their collaboration, Young Global Citizens for empowering youth and schools to support the campaign, as well as our generous sponsors, Ovivo, Keurig, Air Canada, Bombardier, Montrusco Bolton, Deloitte, and AlphaFixe Capital.
We also seized this opportunity to launch our official TikTok account to raise awareness around global and local issues related to safe water access—and have a lot of fun while we're at it! Follow us @onedropfoundation.
Some of the One Drop Foundation's friends have agreed to participate in the race to raise public awareness as well as funds for the cause, including Geneviève Borne and Kim Clavel. Follow us on our socials to hear their stories and take part in Water in Action—your way.