India
How a young boy is creating lasting change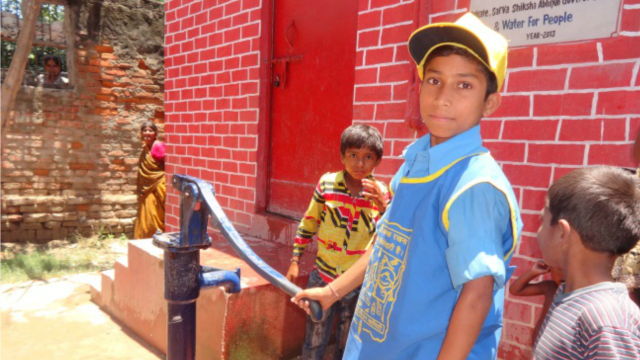 At just 13 years old, Manohar Kumar is already leading his community in Sheohar, India to a healthier, more promising future. Since learning about hygiene and healthy practices from One Drop's innovative approach to inspiring young minds through social arts, Manohar has been sharing his newfound knowledge with members of his community.
Manohar's passion for water, sanitation and healthy living led him to assume the roles of treasurer of the Water and Sanitation (WATSAN) committee, and leader of the Water committee at his school. These committees were established as part of Project Sheohar to maintain and sustain the toilet block and water-point. And Manohar takes his responsibilities very seriously.
Initially, he took it upon himself to ensure that nobody was wasting water on school grounds, that everyone was using the dustbin to dispose of waste, and that everyone was taking care of the water-point and keeping the toilet area clean. When Manohar would notice that students were not following the proper practices, he would explain the necessity of saving water and keeping the surroundings clean.
At first, some students ignored Manohar's efforts. However, his dedication to this matter meant that eventually, everybody would come to realize the importance of what he was saying—and began acting in a more hygienic way.
His commitment to hygiene and healthy practices extends to his own home, as well as the homes of his neighbours. Manohar, who lives in precarious conditions with his parents, grandmother, two siblings, uncle and aunt, convinced his family to build a proper toilet at home, and to keep the area clean. He also educated his neighbours about the benefits of a home toilet, as well as using bins to collect and dispose of garbage to stop the spread of diseases—and many of them followed his advice.
Manohar has even educated members of his greater community about how a dirty environment can lead to an unhealthy life, and how they need to take action to avoid this. Because of his efforts, members of his community have agreed to construct a public toilet, and many have started disposing of waste in a designated place to avoid polluting the village environment.
A day will come when each and every individual will realize the importance of healthy and hygienic living.This will prevent illness and will lead to a better and brighter future for everyone.
Manohar
When he's not playing cricket or enjoying his English and math courses at school, Manohar continues to take the time to educate others about the importance of hygiene, saving water, and the benefits of living in a clean environment. Perhaps this is early training for Manohar's future career, as he dreams of becoming a doctor and encouraging his patients to adopt healthy and hygienic lifestyles.
Even at his young age, Manohar has already had such a tremendous impact. Here at One Drop, we're proud to have been able to give him some of the tools he needed to accomplish all that he has, and we can't wait to see what he's going to achieve in the years to come as a life-long advocate for water, sanitation and healthy living.