India
The Sheohar 2 Project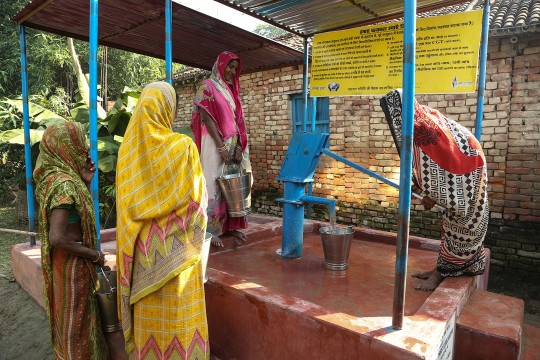 Fetching water — Sheohar 1 Project
The Sheohar 2 project built on the work done through the Sheohar 1 project (2014-2018) to improve the quality of life through reliable access to drinking water and sanitation. The initiatives were adapted to reflect the region's current WASH context, and the project further integrated One Drop's SABC approach to address specific WASH-related behaviours as a means of fostering lasting change. Sheohar 2 also explored innovation with traditional art forms and digital platforms to sustain healthy behaviour change.
250,000
Targeted population
District of Sheohar, Bihar
India
One Drop thanks METRO AG and United Technologies Corporation (UTC) — as well as the project's executing partner, Water For People, and Sheohar's local administration — for making this life-changing project possible!
We have cherished this partnership and we do hope that the relationship established during the project period can be taken far beyond the confines of this project.
BISHWADEEP GHOSE, Water For People Country Director, India
The Sheohar 2 project continued the important work that began with Sheohar 1, and benefited from the strong relationships already forged with the region's communities, local governments, and project partners. Guided by One Drop's A·B·C for Sustainability™ model and by Water For People's Everyone Forever approach, the project's overall goal was to improve quality of life for residents of the Sheohar District through access to reliable drinking water and sanitation.
This project relied on collaborations with local governments, social art partners, community organizations, and private agencies, to increase the use and sustainable management of safe water and sanitation services, in the aim of the sustained adoption of targeted WASH behaviours and of an improved market system for WASH products and services.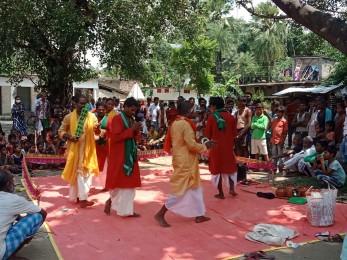 Access
The aim was to promote the development of high-quality drinking water and sanitation services, accessible to everyone in the Sheohar District, and sustained by local communities, businesses, and governments.
Behaviour change
This project leveraged the SABC interventions to engage Sheohar communities to embrace healthy behaviours around water, sanitation, and hygiene—behaviours such as handwashing with soap at key moments, increasing the usage of household latrines, especially by men, and the safe storage and handling of water. From Multidisciplinary shows and street plays to traditional storytelling and educational games app, and even through COVID-19, the project aimed to strengthen participatory and sustainable behaviour change.
Capital
In a region where the majority of the population consists of subsistence farmers, access to capital and the development of markets systems is crucial. In response to this, the Sheohar 2 project's C component focused specifically on people's livelihoods, access to credit, and the provision of WASH-related products and services.
HIGHLIGHTS
Installed 140 new community waterpoints covering 140 wards.
Installed child-friendly WASH facilities in 11 schools, benefitting more than 3,600 students and staff.
The project has reached almost 260,000 people through improved WASH services and One Drop Foundation's Social Art for Behaviour Change (SABC) initiatives.
Nearly 400 community handpumps were constructed or repaired.
WASH facilities were constructed in 36 schools and two health care centres in the district.
Around 80 artists engaged in SABC activities and were later invited to collaborate further with the governement.
More than 500 shows were performed by local artists to promote key behaviours.
15 points of purchase were established and kept operational in the project areas, making it easier for people to access the materials required for the construction of toilets.
Through the project's C-component initiatives, over 23,000 people have gained access to basic sanitation services.