India
The Sheohar 2 Project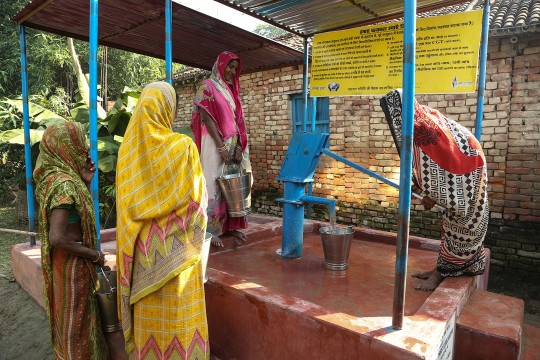 Fetching water — Sheohar 1 Project
The Sheohar 2 project builds on the work done through the Sheohar 1 project (2014-2018) to improve the quality of life through reliable access to drinking water and sanitation. The initiatives have been adapted to reflect the region's current WASH context, and the project further integrates One Drop's SABC approach to address specific WASH-related behaviours as a means of fostering lasting change.
250,000
Targeted population
District of Sheohar, Bihar
India
One Drop thanks METRO AG and United Technologies Corporation (UTC) — as well as the project's executing partner, Water For People, and Sheohar's local administration — for making this life-changing project possible!
The Sheohar 2 project continues the important work begun with Sheohar 1, and benefits from the strong relationships already forged with the region's communities, local governments, and project partners. Guided by One Drop's A·B·C for Sustainability™ model and by Water For People's Everyone Forever approach, the project's overall goal is to improve quality of life for residents of the Sheohar District through access to reliable drinking water and sanitation.
This project relies on collaborations with local governments, social art partners, community organizations, and private agencies, to increase the use and sustainable management of safe water and sanitation services, in the aim of the sustained adoption of targeted WASH behaviours and of an improved market system for WASH products and services.
*Implementation to be completed by December 2021, with project closure to be done by March 2022.
Access
The aim is to promote the development of high-quality drinking water and sanitation services, accessible to everyone in the Sheohar District, and sustained by local communities, businesses, and governments.
Behaviour change
This project uses SABC interventions to engage Sheohar communities with respect to embracing healthy behaviours around water, sanitation, and hygiene — behaviours such as handwashing with soap at key moments, using household latrines, and the safe storage and handling of water.
Capital
In a region where the majority of the population consists of subsistence farmers, access to capital and the development of markets systems is crucial. In response to this, the Sheohar 2 project's C component focuses specifically on people's livelihoods, access to credit, and the provision of WASH-related products and services.
HIGHLIGHTS
Installed 140 new community waterpoints covering 140 wards.
Installed child-friendly WASH facilities in 11 schools,
benefitting more than 3,600 students and staff.