Projects
Improving Safe Water Access: Successes and Challenges of a Latin American Program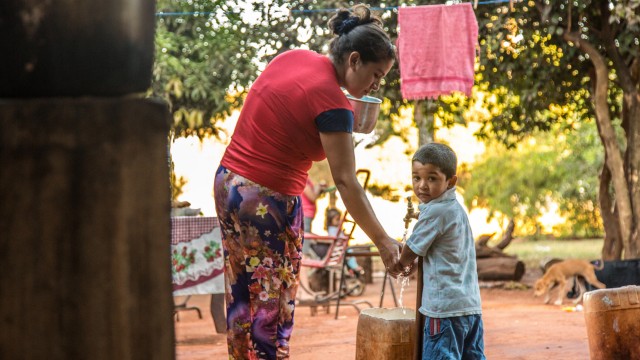 Findings from an evaluation conducted by an external firm halfway through the implementation phase of the Lazos de Agua Program.
By Anna Zisa, Monitoring, Evaluation and Knowledge Management Advisor at One Drop – Strategic implementing partner of Lazos de Agua
Carried out since 2016, Lazos de Agua Program seeks to provide with sustainable access to safe water, sanitation and hygiene (WASH) to around 200,000 Latin Americans by December 2022. Despite the challenges presented by the global pandemic in 2020, the Program continues its work with communities, governments, and local stakeholders thanks to its implementing partners in Colombia, Guatemala, Mexico, Nicaragua, and Paraguay.
Hydroconseil, the external firm that carried out this evaluation, based its assessment on qualitative and quantitative data contrasted with five criteria from the Organisation for Economic Co-operation and Development (OECD): pertinence, efficiency, efficacy, impact, and sustainability.
A glance into the findings
The Lazos de Agua Program is pertinent because it seeks to increase WASH service coverage in rural and peri-urban Latin America. Over 12% of the population in rural Latin America and the Caribbean do not have basic drinking-water services, more than 30% do not have access to basic water sanitation services, and more than 40% are currently without any basic hygienic services (JMP, 2017).1
Moreover, the Lazos de Agua Program is aligned with the current political and strategic national or local priorities of the countries where it is carried out. Diverse stakeholders see the A·B·C for Sustainability™ model and the Social Art for Behaviour Change™ (SABC) approach, both from One Drop Foundation, as valid responses to the sustainability challenges of conventional WASH programs.
This is an efficient program. The cost per benefitted person from implementing Component A is comparable or significantly inferior (from 26% to 49%) to the cost highlighted by the latest international comparative analysis.2 The same can be said about the implementation costs of Component B, when compared to equivalent programs.
With respect to efficacy, the Lazos de Agua Program has managed to modify specific participant behaviour and increase water service coverage. However, the evaluation recommended optimizing the interaction between components of the A·B·C for Sustainability model: Access (A), Behaviour Change (B), and Capital (C). It also recommended reinforcing actions around sanitation and hygiene in order to effectively respond to the region's needs.
As for impact, focus groups composed of Lazos de Agua participants reported that the program has contributed to certain socioeconomic and health-related benefits within the communities. It has improved hygiene practices and decreased instances of open defecation, thus reducing the number of gastrointestinal infection cases seen in youth. By having a household water source, women and young girls save time that they would otherwise spend carrying the liquid.
Regarding sustainability, both the model and approach implemented by the Lazos de Agua Program play a key role in the sustainability of the program's outcomes. The evaluation pointed out the importance of the support local institutions provided to Community Organizations of Water and Sanitation Services. Without this local institutional support, the sustainability of the capacity built by the program within these community organizations is jeopardized. When the links between these organizations are weak or non-existent, advocacy efforts become pertinent. Another recommended practice entails educating as many community members as possible to mitigate the risk of capacity being lost through turnover.
Today, the Lazos de Agua Program's pertinence increases due to its strong focus on participants adhering to proper hygiene practices and the collaborative work between local and national governments to ensure access to water and sanitation services as a response to pre-existing conditions and the new realities of COVID-19.
Click here to read the original article (Spanish).
To stay in the know about out projects, subscribe to our newsletter here.
References
1. According to most recent estimates from WHO/UNICEF Joint Monitoring Programme for Water Supply, Sanitation and Hygiene (JMP)
2. Guy Hutton and Mill Varughese, 2016 – Reference has been used to estimate the worldwide cost of complying with SDG6.