Projects
One Drop Foundation's 2021 Year in Review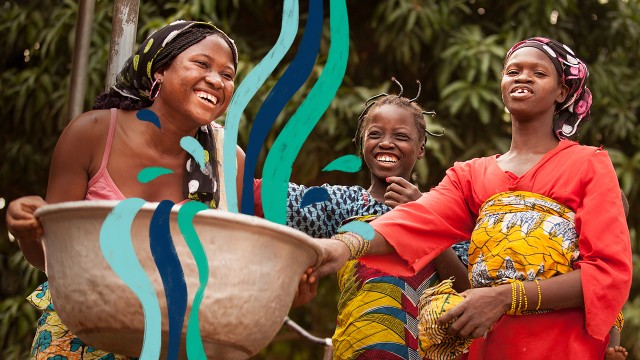 Painting a brighter future, together
As 2021 comes to an end, we look back on the challenges, transformations, and achievements that have marked this year for the One Drop Foundation, our family of partners and donors, as well as the communities we work with and for.
We've had to further adapt to new realities via creativity, collaboration, and innovation so we could continue to generate impact where it was most needed. Our projects have supported water, sanitation, and hygiene (WASH) services in health care facilities, mobilized Leaders of Change in their communities, and amplified women's voices across borders.
We are filled with gratitude, because none of this would have been possible without the continued support of our partners and donors. Together, we made a real difference through turning water into action, painting a brighter future.
In 2021, we uplifted Leaders of Change through projects that were designed and implemented by and with community members. In Nunavik, the community of Inukjuak is at the centre of the Pirursiivik greenhouse and social art project in all its phases, from the original idea to the design, construction, and management of the greenhouse. Our success is due in large part to these Leaders of Change, whose involvement has had a ripple effect: encouraging positive changes in the communities they lead to make them better equipped and more resilient during challenging times. Tomorrow, we envision a future where everyone has access to living conditions that allow for empowerment and development.
In 2021, we adapted our Social Art for Behaviour Change™ (SABC) interventions in the face of new challenges so that we could continue to promote healthy behaviours around the globe. In Paraguay, the teams, communities, and artists that participated in the Y Kuaa Project successfully adapted SABC interventions to dovetail digital and in-person activities. We also launched an online course on One Drop's unique SABC approach to share our knowledge, hoping it will change lives beyond our projects. Tomorrow, we strive to further push the boundaries of social art via innovation, because art has the power to trigger emotion, action, and sustainable change.
In 2021, we addressed critical needs in health care facilities and continued to build on strong international and national partnership networks to scale our impact. At its completion this year, the InPATH Project in Malawi garnered a 96% satisfaction rate for the quality of services delivered at project-supported health care facilities, compared to 59% at baseline. As part of the Prisma 2 Project in Haiti, social art was introduced in health care facilities to encourage healthy behaviours by leveraging the power of music. Tomorrow, we envision a world where all patients and health care workers can benefit from a safe environment.
In 2021, we supported women in reaching their full potential by ensuring equitable access to water, sanitation, and hygiene services, as well as by empowering women and girls to become Leaders of Change. Using One Drop's Social Art for Behaviour Change approach, we elevated the role of women throughout all communities in which we worked—like Rajasthan, India—by listening to and amplifying their voices and stories. Tomorrow, we envision a world where everyone has the tools to paint a better future for themselves, regardless of gender/social norms.
All this impact was made possible by the innovative partnerships and creative fundraising activities that have contributed to our cause. Last month, La Cuvée One Drop auction in Paris—in partnership with Ducasse Paris and Artcurial—and the Little One for One Drop poker tournament in Las Vegas—in partnership with the World Series of Poker—raised US$820,000+ and US$400,000+ respectively to benefit the One Drop Foundation's critical mission: ensuring sustainable access to safe water, sanitation, and hygiene services for some of the world's most vulnerable communities.
We couldn't recap this year without mentioning the support of our valued partners, notably Cirque du Soleil, Inter-American Development Bank (IDB), Coca-Cola Foundation, FEMSA Foundation, Phillips, Conrad N. Hilton Foundation, RBC Foundation, IAMGOLD, Power Corporation of Canada, METRO AG, and Ovivo. Through our continued collaboration with local, financial, public, private, and social art partners, our actions have led to sustainable changes in communities the world over. By partnering with sector leaders such as Canadian Partnership for Women and Children's Health (CanWaCH) and Sanitation and Water for All (SWA), we look to increase our impact in the global effort to build resilient water, sanitation, and hygiene (WASH) systems. Through our A•B•C for Sustainability™ model and our unique Social Art for Behaviour Change approach, we continue to be creative, collaborate, and innovate to drive long-term change.
On behalf of everyone at One Drop, thank you for supporting us and contributing to a positive impact on the future of millions of people around the world. Together, let's turn water into action once again in 2022—and for years to come!
Donate to the One Drop Foundation
Every donation will be matched up to $10,000 until December 31.
Your generosity will help paint a brighter future where communities worldwide can flourish in a safe, healthy, and sustainable environment with access to water, sanitation, and hygiene services.